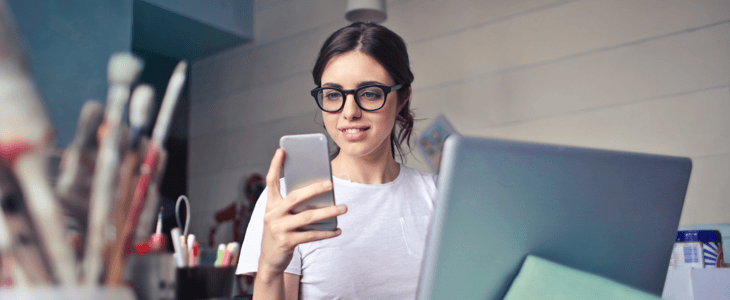 It is just as important to choose the right engagement levers to maintain social links between teams, as it is to choose the right collaborative tools to organise remote working for them.
Although remote workers are as productive at home as they are in the office, they are more likely to suffer from loneliness. Human resources and internal communication departments must be inventive to maintain the sense of belonging despite relational distances.
How can you ensure that each employee remains informed, motivated and feels perfectly at ease within the company?

1. Organise and ritualise meetings
To overcome loneliness and optimise team work, it is essential to communicate both simultaneously during meetings and asynchronously, using emails and tools like Slack. Although asynchronous communication offers more freedom and is more efficient, simultaneous communication is necessary at all levels of the company, to ensure social connections.
For each team, the manager can organise one or several meetings per week, at a specific time of which everyone is aware, to focus on everyone's objectives and to monitor projects. If an employee expresses the need to be monitored more regularly, opt for a phone call at least once a week. If, on the contrary, they would like to be a bit more autonomous, a collaborative tool like Slack may be enough most of the time. It is essential for the manager to adapt to the needs and the profile of employees.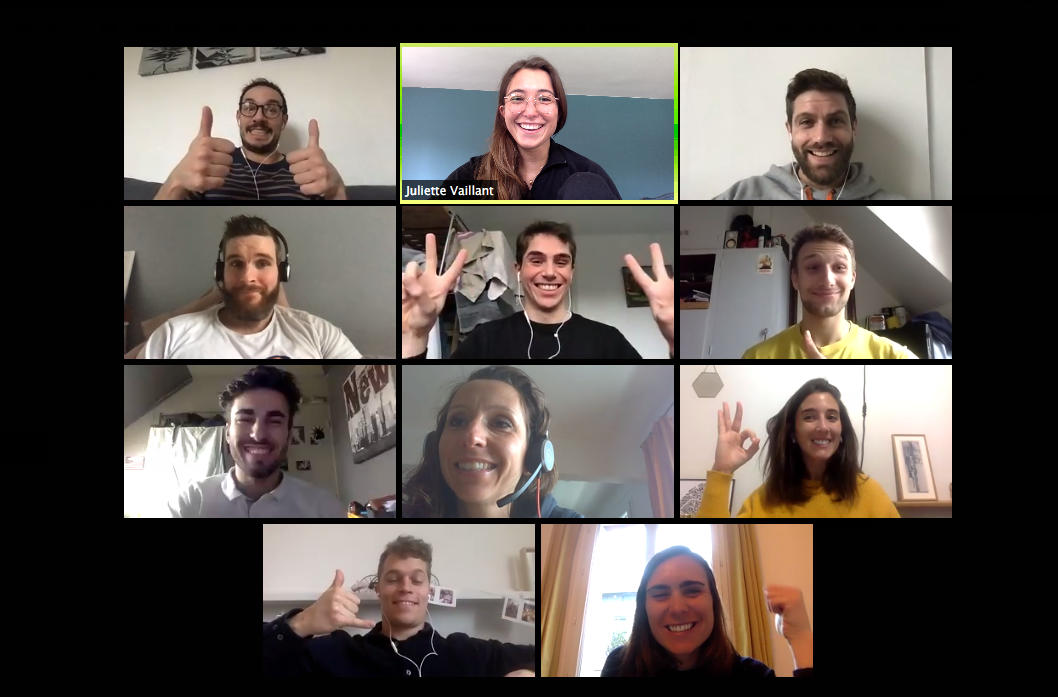 It is easy to communicate with your employees, wherever they are, thanks to collaborative work tools.
Management teams can easily speak to all their employees at the same time with chat and video conference tools like Skype and Zoom. Organise a video conference every week to inform them about the latest company news: objectives, new contracts, good news and even birthdays. This will provide all the teams with the same level of information and ensure their involvement in the company's activities.
2. Motivating teams using sport
Remote working is not an excuse for staying glued to the sofa all day, even if you are very efficient. Whether you can go out or you have to stay at home, you must take breaks and move around to stay in good health.
Sport: the best way to create social links
Surpassing yourself, sharing your performances, testing yourself, comparing yourself to others... Doing a sporting activity encourages exchanges and allows employees to get to know each other in a non-professional context.
Do you think that remote working prevents people from doing sport? Digital solutions exist which allow cohesion to be maintained between employees and also enable them to take care of their well-being using the gamification of sports activities. Personal devices, team or individual rankings and chat rooms are all functions which encourage exchanges.
Thanks to United Heroes, you can encourage employees to do sport wherever they are. A large choice exists, even for those who want to stay at home, whatever their level: weight-training, yoga, Pilates, treadmill, exercise bike, etc. Sport removes social barriers and encourages inclusion.
Sport passes on values
Collective sports challenges are a lever for additional motivation.
Whatever their level, employees come together, to reach a specific number of points as a result of their physical activity. Focus on collective values by supporting a charity or a cause to motivate them even more! These charity challenges are an excellent way of promoting your corporate culture and strengthening links between teams. You can also sound them out to find out if a cause is really important to them, which will encourage their involvement.
A sport in the workplace programme allows you to motivate your teams remotely, in the short-term, in particular via an individual or a collective challenge, in the medium-term, by increasing the challenges and tips to start doing sport, and in the long-term, using a complete programme to inspire and encourage physical activity and establish good habits lastingly.
3. Creating new interaction opportunities
Be innovative to increase interactions between employees.
Tools like Slack are very useful to create informal communication spaces. No coffee machine to gather round in the morning to talk about what you did the day before? Create "channels" dedicated to your employees' interests: a travel channel to share advice and favourite destinations, a cookery channel to mutually inspire each other…At Sport Heroes, for example we have a channel dedicated to sport (not surprisingly)!
To go further, like Gitlab, you can organise virtual coffee breaks , using the bot Donut. It brings two members of your team together so they can get to know each other better over coffee, lunch or a sports session. And you can even do this remotely.
Draw inspiration from HelpScout that organises «Troop Talks": the names of 10 people are selected to take part in a video conference around a theme. Some examples? "Book report" to talk about a book which really moved you, which changed your life. "Recipe Party" to share your favourite recipe and your culinary tips. "Bon-App-etite" to share your favourite app that you use all the time. You'll enable employees that don't work together to get to know each other better in just 20 minutes.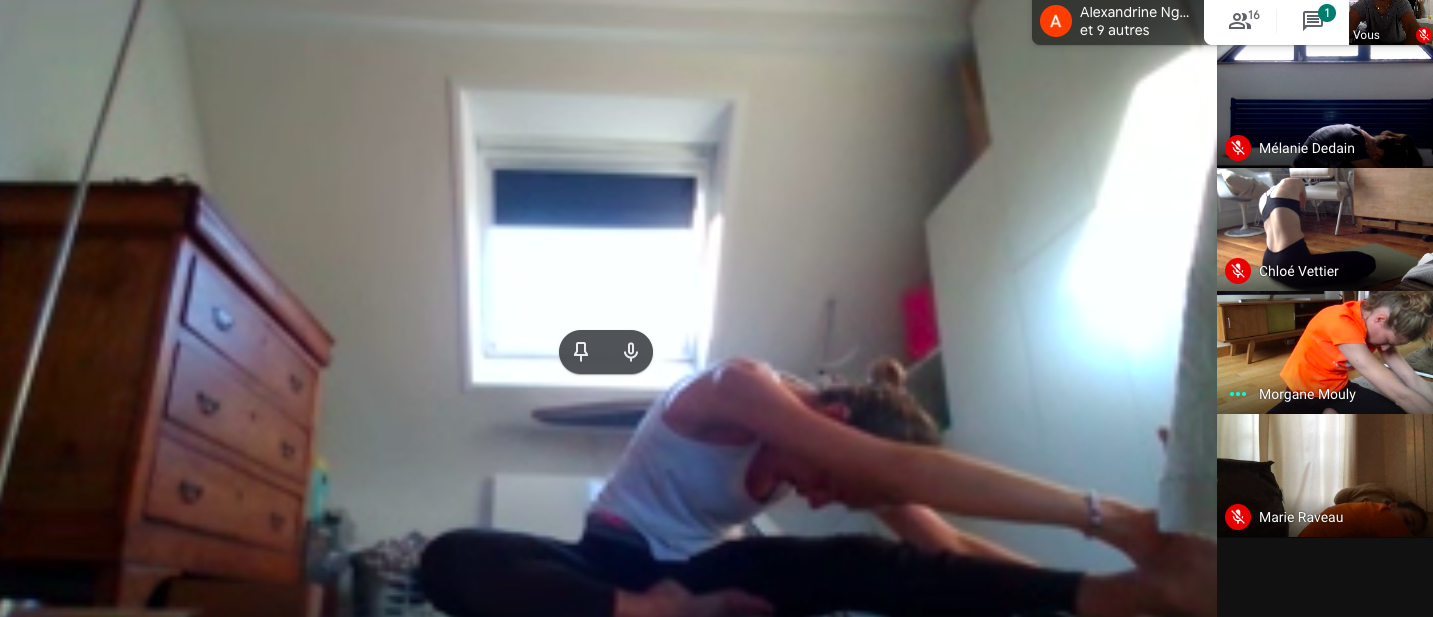 At Sport Heroes, our female employees have chosen yoga to work out at home!
Corporate culture involves a lot more than what goes on in the office! Thanks to digital technology, there are many ways of creating links among employees. By focusing on the right tools and finding the right levers, you'll increase the sense of belonging of all your employees, wherever they are, which will greatly contribute to improving your reputation and your attractiveness.

Content manager @Sport Heroes