Feeling supported in your professional development, working in a friendly and tailored environment, sharing good times with your colleagues, there are lots of ways to start your working week with a smile! And some companies put their all into boosting motivation and team spirit among their staff. Let us introduce you to 3 of them today.
Traditions at Michel & Augustin
They're famous in France (and abroad!) for their delicious biscuits that are a ray of sunshine in pastry aisles. Flavour firebrands and just as bold in HR, the founders of Michel & Augustin are full of bright ideas to engage their staff. This young company has lots of traditions to boost team spirit.
It all starts with the Monday morning briefing where everyone gets together for breakfast and an informal chat about important subjects in every team's week. Michel & Augustin's onboarding procedure is a fun-filled affair with welcome drinks in pairs. Want to find out more about onboarding your colleagues with success? Check out our article about it!
This well-oiled organisation has other traditions:
The good news bell: ring it when there's a positive event to celebrate!
Learn at lunch: fun-filled activities to build skills and explore new horizons during the lunch break.
Blind date: monthly meetings between different colleagues on a set date and time.
A great way to form real bonds and boost team spirit.
`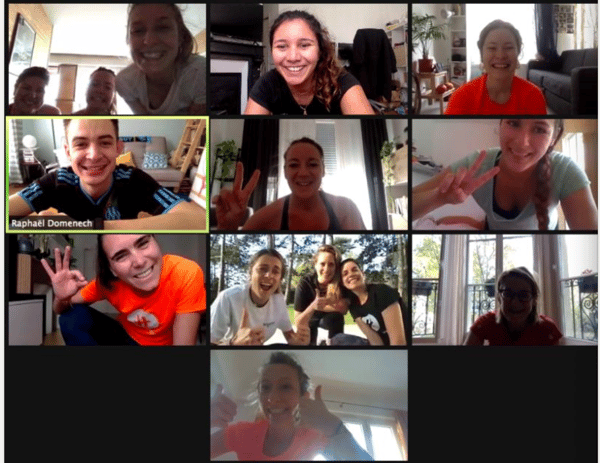 At Sport Heroes, we get together for
weekly workouts 💪⬆️
The Bolloré Group's Marathon Day
There's nothing like a major sporting event to motivate teams to the max! The Bolloré Group has hit the nail on the head with its Marathon Day, a community race for all the group's staff. An incredibly inspiring adventure which is one of the company's classic traditions.
« We use this community event to provide real support to charities helping young people. More people sign up every year and it reflects our staff's commitment to a shared goal and values that are close to our hearts », says Cyrille Bolloré, CEO of the Bolloré Group.
And the 2020 version went ahead despite the pandemic in September as the event went digital! What's the idea? Walk, run or cycle around the world, 40,000km. In the end, 14,125 members of staff from 85 countries around the world took part by registering on the United Heroes app. Check out the results in the video ⬇️
Adeo's campus
In business, a sense of community involves providing a pleasant working environment which inspires staff. The hardware group Adeo's new HQ is the perfect example of this.
The sprawling « Campus Terradeo » opened in 2013 in Ronchin, Northern France, and was designed as a blank canvas that staff made their own. They spent two years describing their perfect workplace: an exemplary collaborative platform in terms of sustainable development and being ahead of its time.
Result? 18ha of land and 27,000m² of offices now include modular meeting areas, water features, internal gardens, coworking spaces available to hire and a terrace bar with views of the grounds. An exceptional professional space with an eco-friendly focus that appeals to staff and provides them with the ultimate quality of life at work.
How does sport come into it? Read feedback from our partners to find out more about the positive impact of a sport and wellbeing programme at work on team spirit.