When office-based employees are asked about the key elements of well-being at work, the ergonomics of the working environment is always one of the first answers. Although issues such as human relations, feeling valued and professional recognition are key elements of quality of life at work, designing comfortable, bright and inspiring spaces has become an essential aspect of the most attractive companies in recent years.
Workspaces are also increasingly personalised and contribute towards creating the company's identity. They are one aspect of the corporate brand in their own right and respond to changes in the world of work as it shifts towards more flexibility (modular spaces), more connectivity (ultra-connected spaces), and more diversity in the functions and roles of each space (recreational, collaborative, relaxation, teamwork, individual, etc.). Each space plays several roles in a day, each role takes place in several spaces, and the spaces and the company itself become decompartmentalized.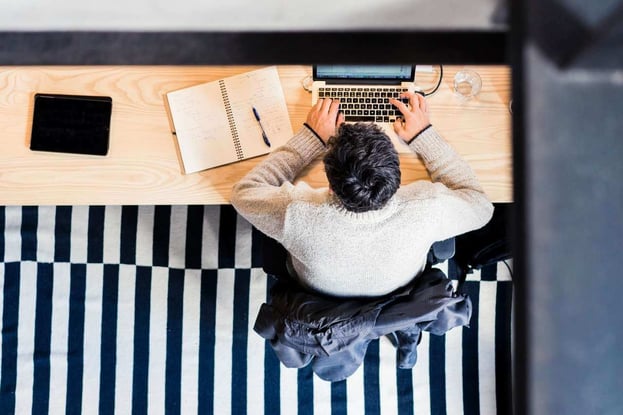 Contemporary office design must meet specific requirements: accessibility, agility, and user-friendliness
What is a well-designed workspace? Much more than simple interior design exercise, contemporary office design meets specific requirements: accessibility, agility, and user-friendliness, integrated into a design that places staff well-being at its very heart. But how are these requirements reflected in the design and creation of workspaces that promote well-being at work?
Accessible and inclusive spaces
Accessibility has become a priority in contemporary workspaces. This is a very broad concept that ranges from the inclusion of all modes of employee transport (bicycles, public transport, car) to the accessibility of IT terminals and easy access to the various spaces (meeting rooms, rest rooms, shared kitchens, etc.), taking into account the diversity of the company staff (gender, age, digital literacy, etc.).
Promoting health and well-being at work can also involve concepts that encourage walking rather than long periods of sitting. Many offices have a nap room or treadmill, for example. Providing access to the outdoors or access to a resourcing space that is clearly separated from work space is also essential for good quality breaks. Including a changing room and showers to make it easier to take part in sport in the workplace is another example: it is the existence of that facility that makes sport accessible to employees.
Flexible and modular spaces
Many companies are experimenting with employee hot-desking in the work place. Halfway between open space designs, which are often criticised for being excessively noisy, and the allocation of permanent, closed offices that makes social interaction difficult, this innovative concept is increasingly appealing. It allows employees to choose their desk according to their daily activity or time of day, and to change it easily according to the day's schedule.
Some workplaces also have different purposes depending on the hours and days of the week, such as some co-working spaces that host training sessions, conferences or small work groups. Modular partitions and furniture that can be easily moved and reassembled according to need meet this constant need for adaptation. By promoting spontaneity and social interaction, these solutions energise teams and boost productivity.
Atmospheres that are conducive to well-being
The interior architecture of the workspaces encourages different atmospheres. By playing with materials, colours and shapes, the company can be rapidly identified and climates can be created which are conducive to well-being (comfort, brightness, pleasant nature of the space that makes you want to stay there). The atmosphere reinforces or determines the function of the place: group discussions, collaboration, relaxation or concentration, through a play of colours, light, choice of materials and furniture available. The creation of atmosphere involves the senses: smell, hearing, touch are also involved, in addition to the visual aspect that first springs to mind.
Addressing workplace design is therefore an essential element of a successful quality of life at work policy. The influence of a well-designed workplace on the attractiveness of the company and its ability to retain talent is now widely recognised. So, you know what's left to do now: take out a subscription to some interior design magazines and find the nearest cactus shop!