A solidarity partnership to engage employees
Download VINCI Energies' feedback
VINCI Energies is committed to the digital transformation and energy transition of its customers and is present in all four regions of the world with more than 83,000 employees in 55 countries. A decentralised organisation but a strong corporate culture and values that VINCI Energies wants to highlight. In particular, its solidarity values are embodied by the partnership between the company and Mécénat Chirurgie Cardiaque, which works to save children with heart defects.


Besides the partnership, a sports and solidarity project makes this commitment shine : through connected and solidarity challenges, all VINCI Energies employees physically surpass themselves for the good cause.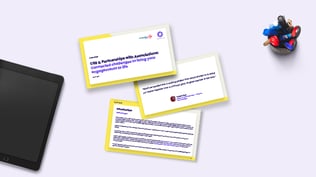 The results? A collective momentum that enabled the sum of €43,003 to be raised for Mécenat Chirurgie Cardiaque in 2020 and a programme that places employees at the heart of the company's solidarity commitments.