The key to choosing the best solution for your business
Download the comparative chart
Are you looking for THE solution that will enable you to boost your employees' motivation, improve productivity and promote team cohesion?
Are you wondering what is the best way to develop sports in your company?
To help you, download our comparative chart of sport and well-being solutions ⬇️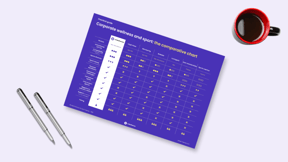 We took a look at the features (prices, available activities, animations, support...) to help you choose the most suitable device for your company and your challenges.