6 workplace wellbeing initiatives to implement in 2022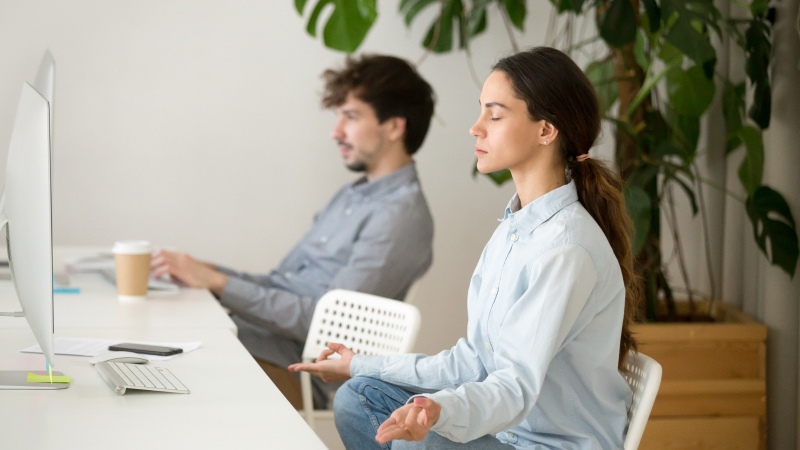 The world of work is constantly evolving. Nothing new here. But, as younger generations step onto the world stage, HR departments have to come up with new ideas and initiatives to meet this workforce's needs and expectations. Especially when it comes to well-being.
What does it mean for HR people? No employee wellbeing strategy, no employer brand. Now more than ever, employee perks are one of the best ways for companies to stand out and attract (and retain) the best talents. It's no surprise that they feature so prominently in job postings.
But what should a "workplace wellbeing strategy" contain? We've drawn up a non-exhaustive list of tools and platforms that can help you take care of your staff!
31%
Happy and fulfilled employees are more productive (31%).
Harvard/MIT study
55%
They also are more creative (55%).
Harvard/MIT study
How to encourage physical activity
7% of employees carry out a physical activity at work while 58% of them say they would like to do sports in the workplace.
In addition to the well-known physical and mental rewards, physical activities offer many other benefits for employees and companies:
Fostering cohesion between co-workers
Creating a sense of belonging
Increasing creativity, productivity, and motivation
United Heroes
A tool such as United Heroes encourages physical activity within a company. This mobile app for physical and mental well-being supports employees, wherever they are, in their daily life and motivates them to remain active.
How to protect employees' mental health
The pandemic has highlighted mental health issues in companies. It has a direct impact on productivity, commitment, and the sense of fulfillment.
As a company, initiatives can be put in place to protect employees' mental health: enforcing no-meeting days, providing manager training courses, or implementing a 4-day working week and paid leave to encourage staff to switch off.
Digital tools can help you protect mental health in your company, raise awareness among your teams and provide support to employees suffering from mental health issues.
43%
Of employees feel stressed
Gallup study: State of the Global Workplace 2021
41%
Of employees feel anxious.
Gallup study: State of the Global Workplace 2021
Starling Minds
Starling Minds delivers personalized, digital mental health support wherever your employees are. The solution provides mental fitness support and training in the form of module sessions, exercises, videos, and tools to manage stress, anxiety, burnout, and depression. To reach more people, employees have on-demand and unlimited access to the platform and 24/7 mental support.
Unmind
Unmind is a cultural change platform for workplace mental health and wellbeing. They help leaders create psychologically safe and engaged cultures, and empower employees to lead more fulfilling lives. Underpinned by clinical psychology and powered by technology, the platform enables employees to proactively measure, understand, and improve their mental health across the core areas of wellbeing - fulfillment, coping, calmness, happiness, connection, health, and sleep. Organization leaders get expert well-being training, as well as access to aggregated and anonymized insights into the well-being of their people, to help them build more mentally healthy workplaces.
How to improve the workplace environment
Whether working in the office or remotely, conditions must be optimal. How can we ensure that all staff members have access to an attractive, comfortable, ergonomic, and practical working environment?
Flex offices, co-working spaces, workation days, hybrid working spaces, company bikes… Working conditions are constantly being reinvented! Solutions and tools exist to help companies optimize their working spaces and sometimes even change them completely to offer new working experiences.
OfficeRnD
OfficeRnD reinvents the workplace experience with its easy-to-use flex and hybrid workspace management software. They've been on the market for 8 years now helping companies simplify hybrid and flexible workplaces. Currently, the team is focused on solving problems like employee experience and engagement, providing a Hybrid work solution. It enables people to easily book desks and meeting rooms on beautiful office maps but also allows you to communicate your hybrid work policies. You can seamlessly integrate it with other tools to facilitate access - Microsoft Teams, Outlook, Google Calendar, etc. So if you want to ensure your employees' wellbeing and productivity, OfficeRnD should certainly be on your radar.
How to help employees sleep better
Companies have every reason to care about their employees being under-slept because they are directly impacted by the consequences: lower productivity, increased psychosocial risks, higher rate of sickness absence, and worsening relations between colleagues.
Restworks
Restworks provides tailored workplace sleep and rest solutions for companies. Thanks to its sleep technologies such as its nap pods and recliners, Restworks helps increase employees' well-being as well as their productivity. The team will also provide sleep education to answer the needs of each company.
Breathwrk
Breathwrk is the solution to improve employees' breathing. Not only does it reduce stress and improve focus but also to sleep better and feel energized the next day. The program provides ongoing support thanks to the app. Employees have access to training and exercises to help them wake up, calm down, increase stamina and fall asleep faster.
Focusing on CSR, values, and impact
Climate change is one of the biggest concerns of today's younger generation and 51% of employees say they would not want to work for a company that is not committed to protecting the environment.
The employer brand must also draw on the company's CSR commitments to attract and retain the best talents.
United Heroes
The corporate wellness app United Heroes enables companies to combine physical activity and CSR initiatives. By encouraging participation in wellness challenges in support of environmental and charitable causes, companies can spread their company culture and their values.