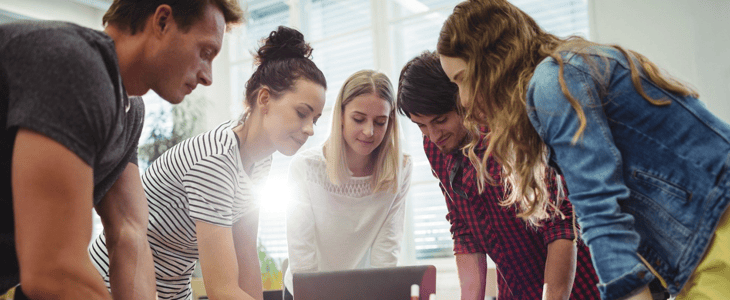 Corporate social responsibility (CSR) is the notion that businesses should focus on improving the wellbeing of their employees while having a positive impact on the planet.
CSR activities come in many shapes and sizes. Depending on the size and style of your business, you will find that different CSR activities suit better than others.
That said, there are corporate social responsibility ideas or initiatives that work wonders for pretty much every modern organization—and we're going to explore them now.
But first, let's consider why CSR counts.
What is CSR and why does it matter?
In our fast-paced digital age, people find it harder and harder to switch off and strike a work-life balance. Increasingly, working professionals are suffering from burnout and poor levels of wellbeing in the workplace.
Focusing on CSR activities will help you create an internal culture that prioritizes staff wellbeing. Not only will this improve engagement and boost motivation—you will also demonstrate strong corporate values.
95% of employees believe businesses should benefit every stakeholder—not just the shareholders. These stakeholders include employees, consumers, suppliers, and local communities.
72% of US consumers alone believe it's either 'somewhat' or 'very important' for businesses to make the world a better place.
Another reason that CSR activities are important (and beneficial) is your brand reputation. If you do things that have a positive impact on the world around you, more people will want to invest in your business.
Taking corporate social responsibility is the right thing to do and it will shine your brand in a glowing light. It's a win-win situation.
4 inspiring CSR activities for the modern age
Now you know why taking part in CSR activities is important, we're going to look at four ideas that will boost your employees' wellbeing— and your brand reputation.
1. Volunteering in the community
Investing in your local community is one of the best things you can do as a modern business. Industry or niche aside, volunteering is an activity that will help you connect with your local community in a meaningful way.
Volunteering will also give your employees an extra sense of professional purpose while helping to develop essential soft skills and improve team bonding.
There are several types of volunteering you can do as a business. Here are a few ideas to inspire your efforts:
Local recycling and litter picking drives

Offering help at local community events

Planting trees, flowers, plants or shrubs

Delivering food supplies and meals or volunteering at food or clothes banks
2. Partnering with a charity or non-profit
Another CSR activity that will expand your business's reach while having a hugely positive impact on the world around you is by partnering with a local charity.
Building a relationship with a charity or non-profit that's related to your business or industry will ensure you're working towards building a brighter future on a consistent basis. A charity partnership will also empower your staff to do good (and feel good) by getting involved in various fundraising projects.
In the UK, for example, McCain (a popular frozen foods brand) has teamed up with the Family Fund (a charity dedicated to enriching the lives of disabled or seriously ill children) with the aim of making mealtimes a little easier.
This essential partnership has so far resulted in offering grants to around 150,000 families each year, allowing them to buy essential items and appliances to make preparing and enjoying food together more achievable. An amazing achievement and a testament to the power of charity partnerships.
3. Taking suitable sustainability measures
Another vital branch of CSR activity is sustainability. It's no secret that the planet is suffering from the effects of global warming and deforestation (among many other environmental issues)—and we need to work together to make a change.
With this in mind, investing in sustainability measures or environmental activities is one of the most impactful things you can do as a modern business.
Becoming greener and more sustainable will engage your employees and your consumers, improving your brand reputation in the process. Here are some environment CSR activities you could try:
Share powerful messaging and eco-friendly tips through your blog and social media channels

Create a workplace sustainability policy that includes incentives for taking greener forms or travel and outlines initiatives surrounding paper waste, energy usage, composting, and recycling

Introduce a 'Cycle to Work Scheme' and 'ride share' rotas

Use more sustainable suppliers and materials to reduce your carbon footprint
4. Revamping your workplace policies
Last but certainly not least, we move onto workplace policy. As we mentioned earlier, investing in CSR activities will help you create a better internal culture. In turn, you will improve your employees' wellbeing, which will have a positive impact on your business.
When you're revamping your workplace policies, you should involve everyone in the business to understand what activities will benefit the health and wellbeing of your workforce.
There are several key CSR areas to consider when it comes to workplace policy, including diversity & inclusion; internal values; social and team bonding; benefits & incentives, and fitness & wellbeing.
To give your workplace policy revamp a little direction, here are some CSR activities or initiatives to look at:
Extended parental leave and leave for cultural or religious purposes

Regular social activities and team bonding activities and events

Creating a more open and inspirational work space with new decor, office layouts, and breakout areas

Planning initiatives and

activities that significantly benefit the health and wellbeing of your employees
United Heroes
An innovative tool like United Heroes inspires physical activity within the workplace. This mobile app for physical and mental well-being supports your staff—wherever they may be—in their daily life, offering tailored tips and incentives to remain fit and active.
Final thoughts: why you should develop a local CSR strategy
Your employees and your customers or supporters are the beating heart of your entire organization. By investing in the right CSR activities, you will show your staff and your customers that you care about them as well as the world around you.
In today's world, selling the right products or services alone isn't enough: to thrive in the long run, putting time and effort into your CSR activities is essential.
Goodness is the only investment that never fails.
When you invest in your local community, you will break down the barrier between business and consumer. And, when you do that—while looking after your internal talent—you will enjoy a wealth of business-boosting rewards. The power is in your hands, the time to take corporate responsibility is now.
Best of luck and for more inspiration, read about why gamification is a great way to engage staff.

Content manager @Sport Heroes