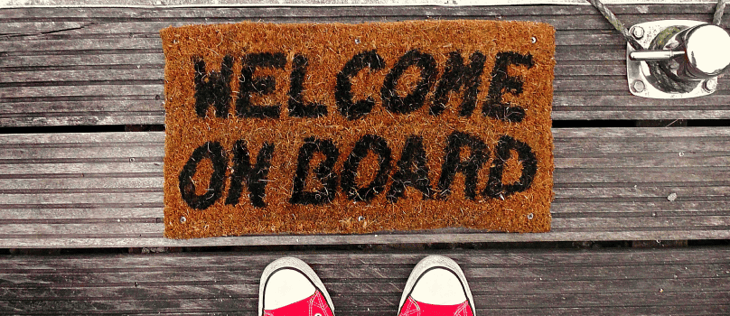 Joining a new company is a bit like going on a long journey. And although it's a journey venturing into the unknown, it's worth planning properly to make it as enjoyable as possible. Onboarding is the name of this important period when any new employee finds their feet, learns about the corporate culture and decides to be part of it (or not).
For onboarding success, here are our 5 tips for a great induction. Welcome on board! 😉
Tip n°1: Before onboarding, be transparent during the recruitment process
90% of companies think new employees decide whether or not to stay in the company during their first year of employment (according to the Aberdeen study). That's why recruitment teams should communicate clearly and honestly with candidates from the job interview onwards.
It's better to be honest and present the reality of the role rather than using fancy words. It's important to clearly present the company's values and ambitions so candidates can see if the environment suits them or not. Without a good understanding of the corporate culture and position, future hires will be less likely to get on board with the business strategy.
Once the recruitment process is under way, it's good to ask candidates to meet operational teams so they get a better insight into the position and relationships among the teams. You could do it as an induction day at the company so they can see what their job could entail on a day-to-day basis!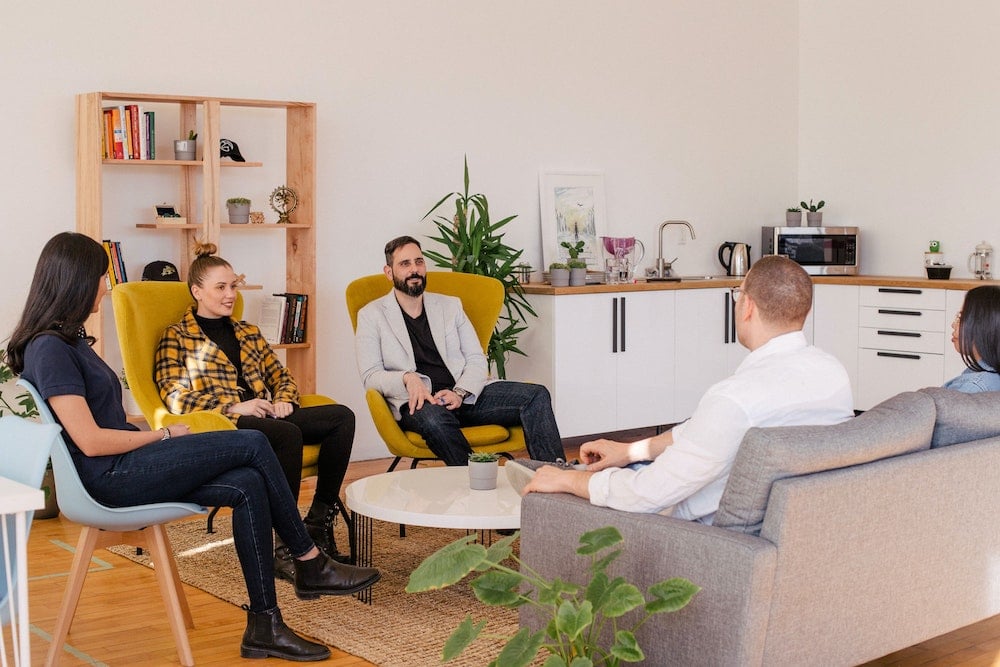 To streamline their induction, introduce new arrivals to everyone they'll be in contact with as soon as possible
Tip n°2: Preboarding before onboarding
If you want to nail onboarding then you have to interact with new hires before they start work. This stage is known as preboarding.
This is the time to offer them an induction day so they can find their feet without worrying about work. They'll have the chance to meet future colleagues, ask any questions they have and feel less « alone » on the big day.
Preboarding has a lot going for it: it helps reduce the often hefty administrative work for new employees and address their needs so everything's ready for their arrival. It also streamlines the induction process for WFH as it pre-empts everyone having to plan their work around each other's schedules, or put in place remote onboarding if necessary.
Whatever happens, the main thing is to ensure all the information about the business and job role are easy to access, by email or an online platform.
💡At Sport Heroes we use the Confluence tool to provide access to the company's key information (photo gallery, procedures, important documents etc.)
Tip n°3: Make them feel at home... always!
We know that everything has to be ready for the big day: tidy workspace, computer ready to go, equipment available, welcome pack printed… New hires have to feel respected and expected so roll out the red carpet with a welcome gift containing branded goodies.
When new employees first arrive, a full tour of the facilities is a must. It's an opportunity to go into detail about health and safety guidelines. It's essential if you work in a factory, shop or transport.
But how long should onboarding last? You need to set aside a week or month for your onboarding process to provide the adjustment time required to develop the skills that will help new hires perform at their best. One day simply isn't enough! Companies with shorter onboarding processes have 9% less chance of retaining employees (according to the Aberdeen study).
All-round onboarding is also a great opportunity to create innovative meetings and original events. Let's take PwC France where they have a sporting challenge for new hires. The newcomers are put in one team against the other employees to try to come out on top of the company leaderboard in sports they design and run themselves. Now that's how to make a strong employer brand statement!
Tip n°4: Count on the power of the network
Having a good network is a real asset in business but it's often a long-term endeavour. So you may as well use it to support new employees and help them network!
Before they even arrive at the workplace, introduce your new hires to all the people they'll be in contact with e.g. each departments' contact person. How about sharing a clear and illustrated organigram with them so they can identify everyone on their team?
To streamline your employees' induction process, appoint a mentor or onboarding buddy in the department. They can have regular meetings together to see how they're settling in. Buddies will also be their point of call in case of any questions they don't want to ask other people in the company.
Generally speaking, count on the power of your company's network and invite your new hires to events with lots of networking opportunities, internally and externally.
Successful onboarding works both ways! Include a profile of new arrivals in your in-house media (newspaper, newsletter or other communication channel ) to present and showcase new team members. By helping new arrivals to socialise in their workplace, you help them create a bond and engagement with the company.
Successful onboarding means a happy employee and prime ambassador for your business!
Tip n°5: Provide personal support
Just like the onboarding process begins before the new hire starts work, it continues after the big day with personal support.
That involves training and providing online resources so new hires can train before and after they start work at the company. It enables them to get up to speed, gain skills and develop at their own pace with improved productivity and engagement from when they arrive.
Touch base with new employees on a regular basis during the trial period to get positive or negative feedback following their induction. These regular catch-ups will help you perfect an already innovative recruitment process!
How about remote onboarding?
It's a good question given the current climate! How do you plan onboarding when you can't physically welcome new hires to your workplace? For WFH, do the same as you would with regular onboarding but focus on routines to enhance the sense of belonging.
1- Maintain regular contact: e.g. through buddies who your new hires could have daily 15-30 minute catch-ups with.

2- Ensure new employees have a proper WFH set-up: send them all the equipment they need to work from home along with a welcome pack, call them to explain how to use the company's collaboration tools etc.


3- Host virtual workshops or cafés within the team for a social aspect


4- Use on a digital solution for sport and wellness at work: employees join a team and surpass themselves to come out on top at the same time as looking after themselves.
Basically, it's an even more organised and attentive way to support new hires using the onboarding process you've already established in your company!
There you have it, you have everything you need for a successful induction. And since we believe that daily exercise is a key part of employee wellness and happiness, feel free to read our client cases and useful guides.

Content manager @Sport Heroes