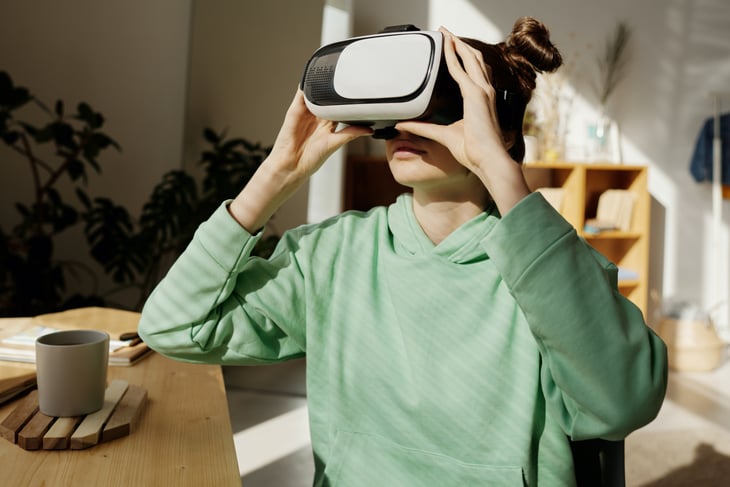 In recent years, the digital transformation of the Human Resources (HR) sector has been accelerating. In fact, it has a name: HR tech.
Big data, AI (Artificial Intelligence), VR (Virtual Reality), decision support algorithms...
Every year, we see a lot of innovations blossoming without really knowing whether or not these technologies are mature enough to be adopted. Should we dare?
In order to help you decipher the real from the fake, United Heroes has conducted an investigation. Because let's keep one thing in mind: digital has already started to revolutionize HR practices and will continue to do so. In the near future (not to say today), it will be essential to adopt these innovations to attract, recruit and retain the best talents!
Find in this article 8 HR innovations to watch closely in 2023.
1- Algorithms to calculate the risk of resignation
Did you know that, similar to more than 80% of the French population, you already use artificial intelligence? You know, this kind of "internet magic" that delivers - whatever the words used - synonyms, definitions or information in order of relevance.
I named... 🥁 search engines (and by extension, HRIS) 🥁
Today, artificial intelligence at the service of Human Resources is progressing and going further than information retrieval, in particular by helping to anticipate and score behaviors.
Is your employee likely to quit soon? What will be your turnover rate in the years to come? This is what certain tools now allow you to anticipate. Find out in this testimony from Nicolas Borgel Larchevêque (HRIS Project Director) how such a predictive HR solution was implemented at Engie, and what lessons can be learned (costs, time, processes...).
In the same logic, predictive algorithms are increasingly looking at the comparative study of inequities related to different criteria (gender, seniority, level of responsibility...).
By sorting out what exists and how to use them, these new technologies inherited directly from the best science fiction books can become very valuable, especially in the context of human resources management. Because we must keep one thing in mind: today, there is no technology capable of feeling human subjects as well as we do!

Valentin Beck
Head of Strategic Planning, United Heroes
2- Artificial intelligence to find the perfect match
After the great success of dating websites and applications, it's now time for the HR sector to benefit from matching tools!
On the company side, enter your search criteria (required skills, seniority, salary package...). An AI will put you in touch with talents matching your criteria, who in return are likely to be interested.
Simple, isn't it?
Good news: it's not utopian! That's precisely what French start-ups Jobamax and Kudoz, "the Tinder of recruitment", are offering.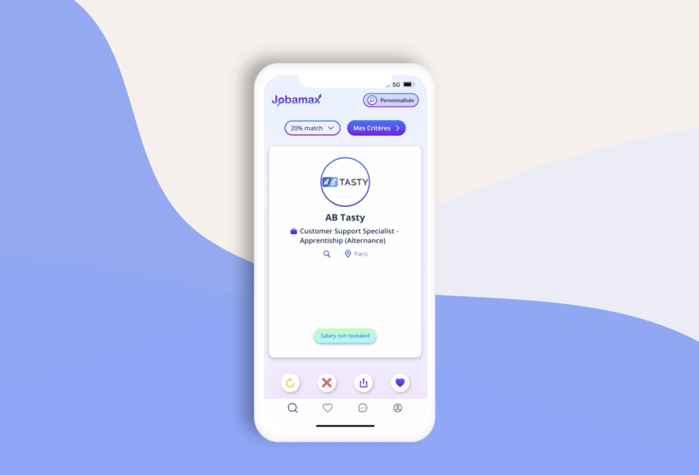 Jobamax application, the "Tinder of recruitment
But one question remains: is a matching algorithm 100% reliable? Does it take into account a weighting adapted to your needs?
The answer is simple: AI is a decision aid. You remain the master of the ship ⛴
💡 Here is what algorithms are now able to automatically detect on a job application:

- Spelling, grammar or syntax errors,
- Feelings when reading a cover letter (positive / negative)
- Lack of key skills versus the offer
- Calculation of actual experience level
- Filtering related to the level of education
3- Tools to measure your CSR impact
Calculating efforts in terms of Social and Environmental Responsibility is often a difficult exercise for a company. How to calculate? What criteria should be taken into account? What to compare with?
Putting a figure on your efforts is not an easy task, which can be complicated in the context of managing a CSR strategy.
The good news is that there are platforms, such as Zei, that allow you to evaluate and monitor your CSR approach in order to set up clear and quantified reporting. A wonderful lever for your internal communication and your employees, who are more and more attentive to the socio-environmental cause!
Moreover, our United Heroes application (the corporate wellness and sports application) allows your company to mobilize its teams in favor of solidarity causes (ocean protection, ecological reflexes...). The more they move, the more donations are collected.
Isn't that nice?
But that's not all. United Heroes allows employees to calculate their CO2 savings in real time! Yes: moving is good not only for your health, but also - a lot - for the planet.
4- Big Data to evaluate soft skills
Are you hearing more and more about soft skills? It's only natural.
Soft skills are the human and transversal competencies of a candidate (we give you many examples in this article).
For a long time, these skills have been ignored, but they tell us a lot about a person's ability to integrate into your company, to evolve, to manage conflicts or to learn! They are generally contrasted with "hard skills", i.e. the purely technical skills of a talent.
Aware of the potential of soft skills in recruitment, many tech companies have created tools to help you detect and score the human skills of a person.
ATS (Application Tracking Systems)
ATS are application management tools. They accompany recruiters from start to finish in their recruitment process, from the posting of an online offer to the selection of the final candidate.
Practical and fast, they are within the reach of everyone, even neophytes. That's right: these tools are developed in SaaS. In French, this means that no technical skills are required to use this type of tool. They are designed to be intuitive and easy to use.
Since the advent of soft skills, some tools focus on the personal qualities that increase the value of candidates. Among them, we can mention Bizneo, Recruitee, Welcome to the Jungle, Monday.com HR or Maki People.
At United Heroes, we recruit our talent through Welcome to the Jungle. Each applicant is asked questions so that we can take the pulse of the personality behind the CV 🙂.
Personality tests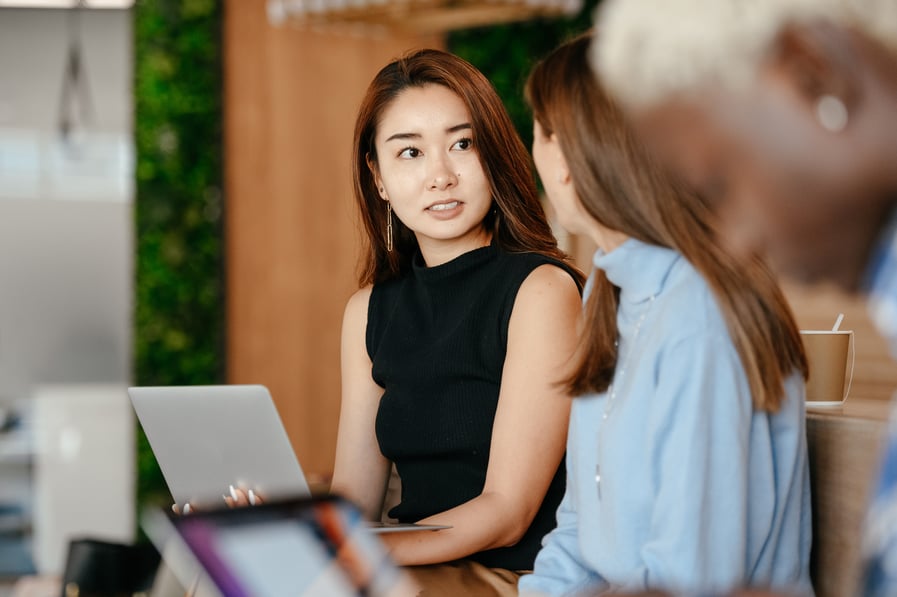 Do you want to understand the way your candidates function? Opt for personality tests! There are several types, including :
The Big Five test (or OCEAN)
The MBTI test (Myers Briggs Type Indicator)
The PAPI test (Personality and Preference Inventory)
The SOSIE test…
Tools (such as 16Personnalities, AssessFirst) allow you to send these tests to the selected candidates in a few clicks in order to understand their emotional management, sense of friendliness, resilience, or openness to change.
5- Optimize skills management
Gone are the days of complicated Excel spreadsheets to be updated, the corny post-its and other documents lost somewhere on the company server or in a file cabinet in the archives.
Today, competency management is no longer a joke. And that's since HR professionals have measured the benefits that can result from the proper management of an individual's know-how.
Company loyalty, engagement, internal mobility, employer brand... The benefits of adopting effective competency management are numerous.
Well, you know what? Many HRIS systems now allow you to view this data in real time (yes, yes, in real time). And the best part? Everything is done to make this data easy to understand and interpret, thanks to outstanding data visualization work.
Kicklox Platform or Whoz are examples of staffing solutions that allow you to create your internal skills repository or to map them easily, in real time.
6- Post-COVID solutions to recreate cohesion between your employees
The pandemic has changed the corporate culture. We're not going to remind you of the list of ongoing changes: as a human resources professional, you know this better than anyone and you're probably not here for it.
Nevertheless, it is obvious that post-COVID corporate life is much less conducive to group cohesion (because of its asynchronous nature), which can deeply damage an entire culture and encourage the phenomena of Big Quit, Great Resignation or Silent Quit.
In fact, it seems urgent to re-mobilize its talents around federative events.
This is exactly the promise of United Heroes, the sport & well-being application that allows employees of a company to challenge each other by moving and to share their victories, small or big.
The little extra? These challenges can mobilize around the highlights of your choice (Paris 2024, donations for Pink October, the Telethon or Movember, the GoodPlanet Foundation...) to make your values shine.
7- Serious games to recruit talent
Have you ever heard of serious games? Let's clarify the term: a serious game is an activity that - as its name indicates - adopts playful mechanisms for a rather serious objective.
Serious games are becoming more and more popular in companies, starting with the recruitment phase. It allows you to understand a person's thought system and to anticipate his or her reactions to a plausible business situation.
Difficult to set up oneself, this real game (physical or digital) can be designed on demand (according to your objectives, your company culture, your sector...) by a specialized company.
This is the case of LudiConcept: a company expert in creating immersive and turnkey serious games.
8- HR chatbots, for a real-time response
Claims management, awareness of various issues, management of departures, arrivals, mobility wishes, salary issues....
You know better than anyone: the HR function is particularly busy. In order to offer you time and availability (the ultimate quest of many HR people), the HR chatbot was born 🍼
The HR chatbot is a "virtual you" that takes care of answering questions from teams. Properly initialized, a chatbot is able to understand (and more importantly, respond in record time) to 90% of the requests sent to it!
No more rambling: your teams get answers without any intervention from you and are generally integrated into your company's ecosystem.
The result:
Dialogue is more fluid.
Tensions are defused.
You gain productivity.
But that's not all! The most advanced HR chatbots allow you to go even further in automating certain tasks.
Send, then analyze QWL surveys
Provide information on labor law
Help you manage telecommuting and face-to-face schedules
Intervene at certain moments of your recruitment process
Train your employees
Relieve you of your administrative tasks (reminder of payroll, leave rules, telecommuting, bonuses, seminar reminder...)
What do we take away from all this? 💡
For the past few years, France has been among the most dynamic countries in HR Tech, if its growing number of startups and scale-ups is to be believed. And for good reason: although the HR function is not the most obvious one to evolve (its DNA being very legal), its stakes are nowadays high between the reorganization of work modes, the shortage of talents or even the "Great Resignation". Time is running out as the challenges are so great, which leads some HR professionals to take a closer look at innovations which allow them to automate and optimize certain tasks, thanks to powerful and increasingly reliable algorithms.
Moreover, as the paradigms are changing, it is obvious that HR professionals must reinvent themselves to source, engage and retain more employees, especially those from generation Z.

B2B Content Marketer @ Sport Heroes