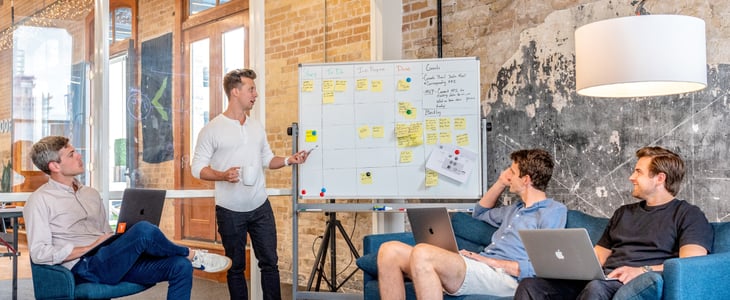 A changing job market and the accelerating obsolescence of skills are forcing companies to reinvent themselves to stay competitive. This is where the concept of the learning company comes in: learning companies facilitate employee learning to improve their adaptation and production capacities. Indeed, a company must go beyond providing access to training if it wants to enter this circle of virtuous and attractive companies. Discover our guide to become a learning organization!
Definition of a learning company
A learning company is an organization that promotes and organizes a culture, behaviors, and processes that encourage the development of each employee's skills. Thanks to this addition of individual skills, it becomes possible to increase the company's overall skills capital. It then becomes more efficient, more competitive, and more agile. In learning work organizations, employees are more versatile and actively participate in setting objectives with their managers. Employees are continuously learning and have a certain amount of autonomy: they can develop their abilities to produce the desired results.
The benefits of a learning organization
In a learning company, management encourages new and expansive ways of thinking, the liberation of collective aspiration, and perpetual training to learn better together. The outcome? Numerous benefits such as:
increased employee commitment;
increase in employee skills;
an innovative work environment.
A learning organization allows employees to develop their learning capacity and autonomy at work, but not only: they improve their critical thinking and their ability to solve complex problems. And on the job market, these are cognitive, organizational, and social skills that are in high demand!
With the talent crisis affecting all companies, the competition to retain talents is intense. Sitel Group has used a adopt a wellness program to increase loyalty and boost employees' experience. 💡
6 ways to become a learning company
1. Map the skills present in the company
Mapping skills, know-how, and interpersonal skills (etc.) allow you to analyze the company's needs and resources. For example, you can use the Career Path HR tool, which aims to group all of a company's job categories and define the levels associated with each of these categories. This allows employees to see where they stand within the organization and to have more insight into possible vertical or horizontal career paths.
Soft skills and hard skills are trendy words but have you ever heard of mad skills? We tell you everything you need to know about this new skill. 💡
2. Make learning collaborative
A learning organization views learning as social action: everyone can be a learner and an instructor. To encourage the exchange of skills, you can set up co-development groups or deploy "peer to peer" and mentoring schemes. For example, at Sport Heroes, employees have shared skills they were keen to teach their colleagues (writing, project management, SEO, etc.).
3. Implement a feedback culture
To learn, you need to be able to identify what you are doing well and what needs to be improved: a culture based on feedback is therefore essential for a learning company. And here we are talking about both negative and positive feedback. Negative feedback allows you to correct a wrong trajectory and improve your performance, while positive feedback communicates recognition and esteem.
4. Encourage employees to learn
Through training circles and dedicated days, create the right conditions to set up "spaces and times" for learning. For example, you can set up:
Short rituals: physically as well as virtually, rely on internal or external
speakers to share good practices or lead workshops on collective
intelligence.
Learning days: these internally led training sessions encourage
exchanges between participants around a specific theme (often linked to the
company's strategic line).
Events: for example, a biannual hackathon with multidisciplinary (even
international) teams to provide answers to problems.
5. Involve the entire managing team
The team manager plays an essential role in a learning company in the context of individual and collective learning. They must be able to accompany the development of their employees, as a coach. Thanks to regular reviews and discussions, management must help each employee to picture themselves in the medium term: this is what allows them to reveal their talents. For example, you can set up learning sessions on a new theme or experience sharing.
6. Encourage internal mobility
Among the major sources of learning are career development and operational experience. A learning company, therefore, favors external or internal immersion programs, designed to respond to employees' desires for new experiences (part-time or full-time assignments, training roles, etc.). Creating a network of alumni also helps to create links and to benefit from a network of ambassadors.

Content manager @Sport Heroes