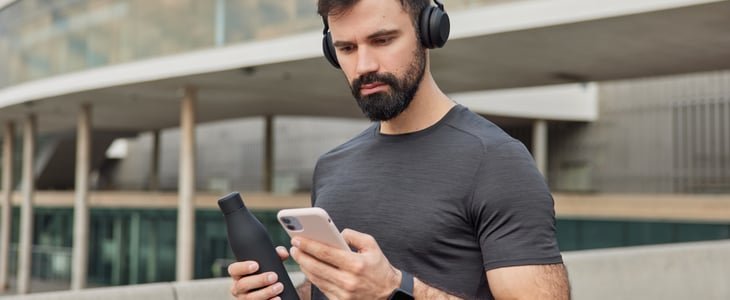 The decision has been made and you're ready to take your workforce experience up a notch with a corporate wellness project. But you don't know where to start or which corporate wellness software to choose.
It's only a sample list but it will give you a good idea of what's available on the corporate wellness market to motivate your staff to get active and improve their wellbeing. And here's a snapshot in this article ⬇️
Are you wondering why we're telling you about our competitors? We want you to be able to make a decision with all the information on the table. And we believe that each wellness program caters for different objectives and people. You have to find the right one for you 😊
Virgin Pulse, the corporate wellness tool from the US
Inspired by the success of the Global Challenge (an annual challenge where employees from all over the world take each other on for 100 days), Virgin Pulse designed HomeBase for Health, a turnkey wellness solution for businesses.
This long-term program aims to create a daily holistic culture of wellness. Virgin Pulse's HomeBase for Health empowers employees to take control of their individual health and wellbeing by changing their daily routines and adopting healthy habits. The solution activates several engagement levers: a library of content, health check-ups, and personalized push notifications.
The Virgin Pulse solution:
Virgin Pulse provides a holistic, individual-focused solution to improve all aspects of employees' health and wellness.
Movespring, a fun challenge platform
Movespring provides a fun and engaging experience for employees with individual, team, and company sporting challenges. They are accessible for all fitness levels. (complete steps, distance, or any other activity). Companies can also fully customize their challenges (eat 5 fruits and vegetables daily, drink enough water, keep in contact with colleagues, etc.). It means that they can track and encourage healthy behaviors: foods, manage mental health, sleep, cohesion, etc. Finally, Movespring also hosts virtual sporting events and charity walks.
The Movespring solution
Thanks to customized challenges, companies can educate and encourage their employees to adopt healthy habits in a fun and engaging way.
United Heroes, the corporate wellness app that motivates teams
No matter their ability or passion, all your staff can get on board your United Heroes corporate wellness program. Every activity (from running and meditation to rowing and CrossFit) counts and gets rewards. Businesses can improve quality of life at work and modify employees' habits
To boost staff motivation, ambassadors motivate teams to take part in the challenges available (5 per week ✌️). And to engage them with your company values, history, and business culture, our community consultants work with you to design solidarity challenges that will bring everyone together. All that means better team spirit and a real sense of belonging! The perfect tool for greater cohesion between your employees, a better sense of belonging to your company, and a stronger employer brand!
The United Heroes solution
United Heroes is the most complete wellness app on the market, which strengthens employees' motivation and engagement thanks to the social and environmental impact of the activities offered.
Wellable, holistic corporate wellness
Wellable is a corporate health and wellness platform that aims to improve employee wellness with a large range of features: challenges (diet, health, and wellbeing), webinars, fitness on-demand classes, and even help to stop smoking. Wellable encourages a holistic well-being approach to go beyond physical health. Organizations can fully customize the program with options and add-ons to meet their goals and take care of their staff. Companies can also monitor all the programs from their side and adapt them regarding insights from On-Demand Analytics & Reports.
The Wellable solution
Companies can personalize their wellness program thanks to add-ons and they can fully monitor the program to adapt it thanks to their personalized dashboard.
Vantagefit, the corporate solution that tracks your wellness habits
Vantagefit encourages staff to take care of themselves and monitor their health. A calorie counter and health journal enable users to track their habits and see their progression (calories, activity, diary, etc.). In terms of exercise, they can take part in challenges that motivate them to move more or a walkathon competing with other businesses. Companies can also reward their employees to enhance participation rates.
The Vantagefit solution
Employees can fully track their healthy habits and activities. To enhance their motivation and help them progress, companies can reward them.
Vitality, a corporate wellness experience
Its corporate wellness programs, Vitality One, and Vitality Elevate enable staff to have their own journey. An algorithm tailors the program regarding their needs and offers solutions regarding their expectations. It delivers weekly goals designed to meet their objectives and rewards them if they achieve their target. Vitality Elevate goes further as it provides a holistic health profile. They are guided toward activities that correspond to their expectations.
The Vitality solution
Companies have the choice between two programs. Each employee has his own tailor-made journey with his own objectives regarding his health and needs.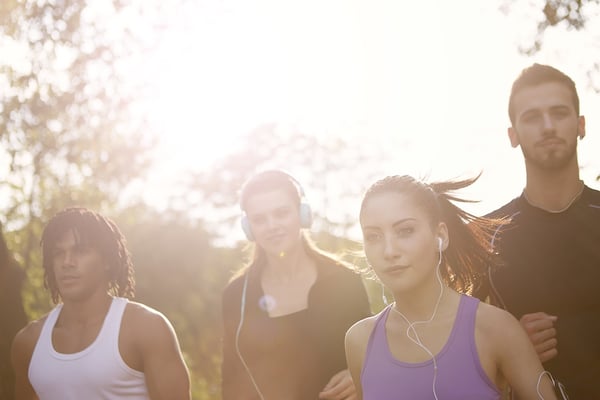 Boost team spirit with workplace workouts
Memberships and corporate wellness coaches
Does a web or mobile app not feel like the right fit for your company? We've got more. 😉
The solutions below are fast and easy to set up plus they tie in nicely with digital sport and corporate wellness programs such as United Heroes.
Memberships with a gym network
For instance, Classpass, FitReserve, or UrbanSportsClub offer a single membership providing staff with access to a vast network of fitness and wellness partners (gyms, studios, pitches, massage centers, etc.). They can use their app to book the closest sessions to them to let off steam or unwind.
👉 Due to the pandemic and restrictions such as gym closures, these solutions now provide online classes.
Workplace fitness coaches
Qualified coaches travel to your workplace to host first-class workouts for your staff. Simply book your sessions on the solution's platform. It's a great way for your colleagues to keep fit and let off steam during their lunch break.
Online wellness courses, produced by TrainMe, are available on the United Heroes application.
Launch your corporate wellness program designed by you, for you
We're not going to lie: this option may enable you to design every last detail of your program but it's the most expensive and time-consuming option too. So if you have time and money to spare then go for it!
Otherwise, we have another alternative that may suit you: United Heroes Premium. A white-label corporate wellness platform that you can customize to suit your brand with countless options to meet your needs. For further information, contact us 😉
We hope this article has helped. Go the extra mile and download our corporate fitness solution comparison! We review workplace fitness providers based on different criteria (price, compatibility, range of sporting activities, things to do, etc.) to help you choose the right one for you 😊