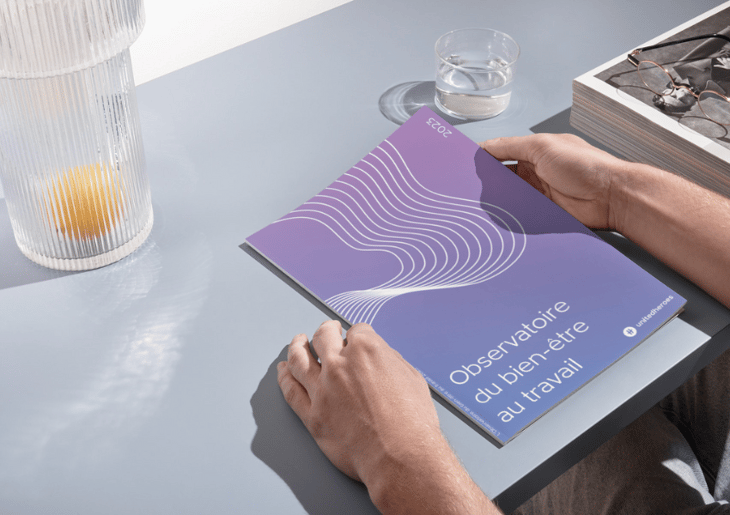 Paris, June 6, 2023
United Heroes, the corporate sports and well-being app, in collaboration with Great Place To Work® France, has conducted its major annual study on workplace well-being for the second consecutive year.
The objective of this study was to gain a concrete understanding of "workplace well-being", how its definition evolves throughout one's career, and, most importantly, its impact on talent retention.

Explore our exclusive infographic.

🔗 Download the high-definition version of this infographic 🔗
Employee Priorities: Putting People First
Meaning of our job, company mission, salary increase… Given the ecological, political, and health challenges we currently face, employees' priorities appear to be diverse.

However, when asked to choose the most important factor in their work environment, 28% emphasized the human aspect, closely followed by job content (27%) and working conditions (26%). This doesn't mean that compensation is not important (it ranked 4th with 15% of the votes). Instead, it is perceived as a fundamental necessity for a decent living and not necessarily directly linked to workplace well-being.

However, these rankings vary depending on hierarchical positions, life stages (such as parenthood or the end of a career), and work arrangements (remote work vs. on-site).

For instance, employees in intermediate positions prioritize working conditions as their top concern, while senior executives prioritize job content. On the other hand, independent workers prioritize compensation as their primary criterion, considering their relatively lower financial security.
The Big Quit: Why Do We Stay, Why Do We Leave?
A staggering 63% of employees have contemplated leaving their company in the past two years—or have actually done so.

Among those considering or realizing their departure, 34% cited management as the main reason, followed by compensation (23%) and job content (18%).

In contrast, among those "loyal to their company" (those who have not considered leaving), 24% cited job security as their main reason for staying. Job content followed at 20%, with human connections, particularly colleagues, accounting for 13%.

To retain employees, the human aspect, especially effective management skills, appears to be crucial. When asked about the priorities they associate with the term "management," respondents mention proximity and trust (72%), listening and empathy (72%), and recognition of work (70%).

The study also demonstrates that companies that take initiatives to engage their teams retain twice as many employees compared to those that do not.
Physical Activity and Solidarity Solutions: The Winning Combination for Enhancing Balance and Motivation
In 2023, 80% of employees strongly believe that companies should take steps to promote their well-being at work.

The study highlights two areas that seem to significantly impact employee motivation and work-life balance:
Physical activity and well-being solutions in the workplace increase motivation by +11%* and improve work-life balance by +16%*.


Solidarity-focused solutions increase motivation by +13%* and enhance work-life balance by +16%*.
*when compared to employees who do not have access to such solutions.
Focus on Physical Activity
Are employees sedentary? Not at all. Despite the majority of respondents having rather sedentary jobs, 62% engage in more than 2 hours of physical activity per week, with 35% exceeding 4 hours.

What's more, 50% of them are enthusiastic about sharing their physical or relaxing activities with their colleagues and/or managers!

Some of the feedback collected includes statements like: "We spend 70% of our time at work, and building human connections is crucial for working in a positive environment and producing quality work" or "Taking care of ourselves while bonding with colleagues is motivating and beneficial in the long run".

But that's not all: the implementation of such solutions has a positive impact on the recommendation rate, which measures the number of employees who recommend their company externally.

It's clear why 51% of decision-makers who have implemented well-being solutions report improved talent retention, 34% say it enhances their employer brand, and 25% notice increased team engagement.
The Key to Successful QWL (Quality of Work Life) and CSR Initiatives: Frequency and Communication
The study brings attention to an important fact: while 86% of decision-makers believe that quality of life at work is reflected in daily actions, only 17% of employees perceive these actions as "everyday occurrences."

With QWL and CSR now at the heart of HR strategies, companies generally do take action to improve their policies.

The main challenge seems to lie in the implementation (communication, execution, and usage) of these solutions, which faces difficulties:


Either in convincing employees (due to age, socioeconomic status… i.e. the service not being tailored to their needs) ;


Or in gaining visibility within the teams (due to lack of communication and information loss).
➡️ Want to learn more and explore the full 80-page study? Download your free PDF copy of our 2023 Workplace Well-being Study (available in French only).
Methodology
United Heroes aimed to compare the perspectives and experiences of individuals responsible for employee well-being in French companies with the employees themselves in France. A survey was conducted among 1,273 individuals from February 14 to March 6, 2023. The responses provide an overview of the concepts and practices of workplace well-being in France and beyond.
About United Heroes
United Heroes is a well-being and sports app designed to engage teams in companies. Created by Sport Heroes in 2017, its mission is to help companies take care of their employees and have a positive and sustainable impact on their well-being, teams, and even the planet. Today, United Heroes supports over 350 organizations across various sectors (PwC, McDonald's, Vinci, Orange, etc.). It has established partnerships with renowned entities like WWF, the French Telethon, and the French Handisport Federation.
The application has over 350,000 users in 150 countries, with 83% reporting an improvement in their well-being after six months of use. In total, Sport Heroes' apps are used by over 2.5 million people. The team consists of 100 passionate experts located in Paris, Madrid, and Sydney.
Find out more on united-heroes.com

B2B Content Marketer @ Sport Heroes