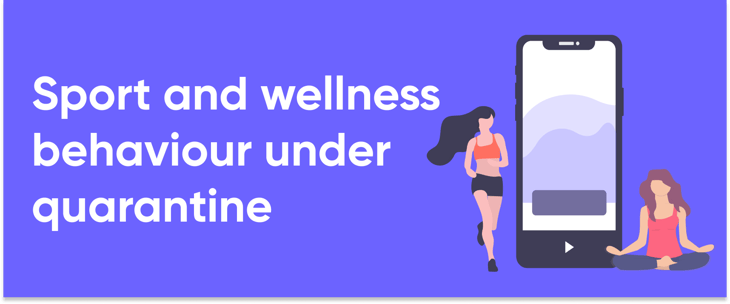 Under quarantine, sporting and wellness practice have been encouraged by many companies to help cohesion and wellbeing stay strong among employees... Fitness classes through video conferences, online coaching programs, group challenges, etc. These initiatives have an impact on all of us, our habits of sport practice and have helped a lot of employees to take care of their wellbeing under social isolation rules.
We have asked United Heroes users about the change in their practice of sport or wellbeing activities to better understand the evolution of their habits in the last weeks.
Find the detailed results in our blog post ⬇️

Employees have created their own new ways of practicing sporting and wellness activities
They have truly enjoyed the initiatives taken by their companies to stay fit and keep social ties with their colleagues, each one his own way.
2 out of 3 users of the United Heroes app have taken advantage of the quarantine situation to spend more time for their wellbeing, by trying new kind of activities (64% of them), including Yoga (27%), fitness (15%) and workout (14%) as the top activities.
Sport practice changed for good
When they have tried new kinds of activities while in quarantine, co-workers are determined to keep doing this way and not lose these new habits!
75% of our users have declared they wish to pursue their new activities after quarantine, alone and from their own place. 15% say they would like to keep practising but in new environments (in sports rooms, with colleagues, etc.).
Walking, running and fitness as top activities during the quarantine period
Walking has been the key partner to many employees in confinement: it represents 39% of the activities seen in the United Heroes app.
Running (28%) and fitness (27%) were also well represented in the list, followed by exercise bike (10%), workout (7%) and cycling (7%).
Activities for every moment of the day!
In the morning, from 7 to 10am, Yoga is the obvious leader, followed by dancing and treadmill from 10am to 12pm. From 12pm to 3pm, people have mostly enjoyed meditation or walking sessions, before riding bikes or again walking from 3 to 5pm, and end up the day with mostly exercise bike, running or workout from 5 to 8pm.
Challenges as top motivation and engagement cause
The desire of employees to keep up with sporting and wellness activities in this unusual situation also comes with a strong demand for support and care in the way they practice at home. More than 3 out 4 of our users have used the United Heroes app more than 3 times a week in this period.
Most of them (70%) have declared they were motivated by the #HomeHeroes challenge and the individual challenges. To find a reason to keep a social link with colleagues was also an important reason for most of them (55%).

Content manager @Sport Heroes