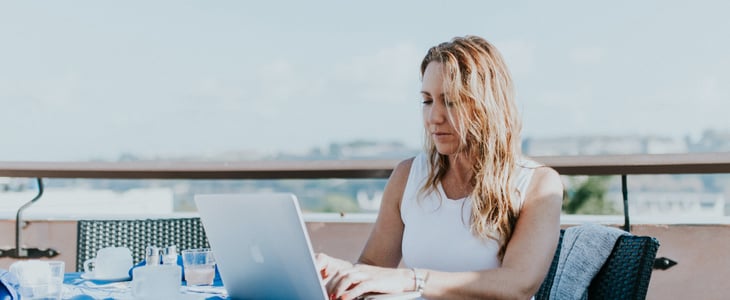 Employees' expectations are evolving and so are our ways of working. Some companies have implemented full-remote and, in some cases, employees can work and live all around the globe. Since the pandemic, the number of digital nomads* has grown by 50% to reach 10.2 million (according to the Digital Nomad 2022 Statistics and Trends study, passport-photo.online).
*A digital nomad is someone who works remotely from several places rather than a fixed office.
Have you ever heard of the workation? This working trend is spreading among the younger generation and 83% of 18 to 35-year-olds would like to see it implemented in their company. Here's everything you need to know about this trend, its perks (and disadvantages) ⤵️
What exactly is "workation"?
There's no real consensus yet on what exactly a "workation" means, but it involves the "possibility of working anywhere thanks to a computer and an internet connection". It's a refreshing change for employees who can temporarily escape their normal working environment. Simply put, the workation trend is reinventing the workspace and offers a mix between work and holidays in idyllic places and unusual settings.
The concept first emerged in California 10 years ago but has taken off over recent years thanks to new technologies which have accelerated the process. With the end of the pandemic, employees also feel the need to discover new environments and a new work setting.
However, it's important to differentiate between digital nomadism and workation. Digital nomads are independent workers that choose a long-term lifestyle. They may move from place to place in converted vans or travel around the world. They generally choose their destinations according to the climate and the cost of living.
A workation, meanwhile, remains very much in the framework of employment. It's a benefit offered by a company to its staff and it ensures they can work correctly with:
A good internet connection,
An appropriate space to work,
Rooms suitable for meetings
For example, Salesforce bought a 75-hectare ranch in California in the middle of a forest and made it a place for employees to recharge their batteries and re-establish a work-life balance. They can enjoy a yoga sanctuary, relaxation areas, and social spaces.
What are the perks of workation for employees?
Workation offers the same advantages as remote working, including flexibility, and enables employees to escape the stress and monotony of their usual environment. A workation day allows employees to combine work with a change of setting and the discovery of new towns and/or cultures. It has a positive impact on their mental health, their sense of fulfillment, and their happiness. And in their productivity and creativity!
There's nothing better than working in a new environment to reflect and find inspiration. According to a passport-photo.online study, 81% of people who tried it out say they improved their creativity and 86% their productivity at work.
Workation enables employees to tend to their health, well-being, and work all at once. 67% of workers consider that it has enabled them to recharge their emotional and mental batteries (according to passport-photo.online). No more worries about being late, traffic jams, public transport or noise: this way of working significantly reduces employees' stress levels.
Site Group has also made an active commitment to its employees' well-being. Thanks to a wellness program, the company boosts health and creates bonds between their workforces.
What are the perks of workation for companies?
More motivation
Workation increases employees' motivation and enables them to find meaning in their work (84% are more satisfied with their job according to passeport-photo.online). As employees are in need to find more purpose at work, the workation trend may be a solution for companies looking for ways to retain their talents.
Employer brand
Workation is an effective way of attracting young talents: by showing that your company is open to new trends, keeping pace with the ever-changing world of work and that it can offer a fulfilling work environment, you will boost their motivation at the same time as your employer brand.
Lower costs
You can lower your costs by reducing the size of your offices. As is already the case with remote working, access to co-working spaces, or flex office trends.
Combat absenteeism
Absenteeism is a major issue in the 21st-century workplace. And it is very costly! On average, it costs companies 3500 euros a month per employee. Not to mention the indirect costs:
Management of the absence and the replacement
Coverage of risks
Negative impact on the social climate
Poor image of the employer brand
Workation helps to reduce absenteeism and the associated costs, enabling you to invest this money in your employees' wellbeing.
What are the cons of workation?
A loss of work-life balance
Some people manage to separate their work and private life by disconnecting and adapting their schedules. For others, work can quickly take priority over their downtime and vice versa. There is a risk that your employees do not take enough time to relax.
The negative effects of workation
Not only may your employees be frustrated at not being able to make the most of the environment they are in, but they may also come back more stressed and tired than when they left.
Creating tensions between your employees
Your employees, through fear of being judged on their productivity, may be tempted to work even more. Indeed, communications between your employees on workation and those in the office are inevitably less straightforward and can become complicated. The lack of clarity and delays in responding can lead to tensions and cooperation issues.
How should workation be implemented in a company?
Here are our 4 tips for a successful implementation of the workation in your company. 👇
Establish a framework for workation in your company
It's essential to draw up a charter to define the workation framework or there will be a risk the system may be abused. Here is a non-exhaustive list of rules you could put in place:
The obligation to have a reliable internet connection
The working hours during which workation employees must be able to be contacted
The number of workation days authorized per month or per year
The list of authorized destinations (specific time zones for example)
You can follow these steps to create your charter. 👈
Work with companies specialized in remote working
You can use the services of a company specialized in remote working. The aim is to help your employees interested in taking a workation find the best places to work. These companies are an alternative to rental sites such as Airbnb. They facilitate the search and booking of short- or long-term rentals finding hybrid accommodation suitable for combining travel and work.
Keep in contact with your employees on workation
By creating regular rituals, you favor cohesion and prevent your employees from feeling isolated. Try to include your managers in this process so that they call or have a meeting at least once a week with your staff on workation. You can also use a digital tool to connect your employees scattered across the world. A program such as United Heroes enables companies to bring together all their employees within a single application and spur them on through connected challenges and fun sports activities.

Content manager @Sport Heroes