Lockdown has turned the lives of many companies and their employees upside down. Ours too. Like you, we have learned from this experience and redoubled our efforts to support companies in their Quality of Life at Work projects.
Good news: ⅔ of United Heroes users have seen lockdown as an opportunity to take care of their well-being and do some sport. We are going to do everything we can to keep this going! That's why we have expanded our well-being and sports programme to help you inspire and motivate all your colleagues with twice as many inspiring articles and twice as many sports challenges. These activities are many and varied, enabling you to involve the greatest number of people.
Inspiration and motivation: the corporate well-being magazine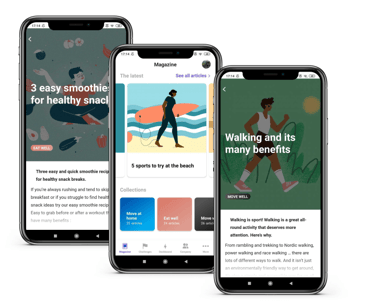 Every day from Monday to Friday, United Heroes users will find a new article devised by our teams. Tips for healthy eating, the personal stories of sportsmen and women, book recommendations and podcasts to discover, advice to help look after your mental and physical well-being…
Our aim is to support the whole workforce and give them inspiration for every aspect of their health and well-being.
Varied and intensified sports challenges to set your colleagues
Do you prefer running or yoga? Or both? Because we hope to involve every employee, whatever their level, whatever they want to do, as the United Heroes challenges change and intensify with four new challenges every week.
Push your limits: the challenge for people who love running or are mad about cycling, to motivate them to keep going further and faster.


Feel good: encourage your colleagues to take a break (at last) in their working day and explore the daily benefits of yoga, Pilates and meditation. Namaste.


Workout: burn those calories and sweat them off! Including cardio and weight-training, our tips help you to train effectively, make rapid progress and maximise your ability.


Surprise: according to how we feel, or the season of the year… We challenge your colleagues and introduce them to new activities.
Too much to choose from? The keenest sportsmen and women can combine the challenges!
And in the last week of the month, we set even higher standards! That's when we have the "Sky is the limit", "Feel better" and "Work harder" challenges. Challenges to motivate your employees to go even further in their favourite sport, surpass their own limits and achieve.
Take a look at the July schedule!
The United Heroes experience is becoming more intense and more varied, and can be adapted to all your employees to help them on a daily basis to improve their long-term physical and mental well-being, with these new sports challenges and the development of our magazine.
Do you have ideas or desires to unite your employees around a shared project and motivate them to take care of themselves? Our teams are available to discuss this with you and create a personalised activity programme for your company.

Content manager @Sport Heroes