Remote working shook up businesses during the Covid-19 pandemic. At first it was seen as an obligation but it has quickly been adopted by a large number of employees : a survey by Chaire Workplace Management found that 73% of them wanted to continue WFH (September 2020).
So whilst HR teams adapted as best they could when lockdown began in March 2020, now it's time to make the terms of this new way of working official to make it work in the long-term. It's a priority for HR teams in 2021 as 73% of them plan to focus on building and consolidating remote working in their company according to a ANDRH survey (February 2021).

The first step towards formalising it: the WFH charter. The tool provides staff with a clear and precise professional framework that applies to everyone. Key to the company's long-term health, here's our advice to help draft a remote working charter to suit your business culture and organisation
1. Ask employees what they need and expect
One of the major success factors behind a remote working policy is co-construction.
Countless companies have wanted to make this way of working more long-term since the Covid-19 pandemic. To avoid any issues or objections in the future, it's vital that companies make remote working official and communicate the rules to all people involved. You can't switch from a regular working model to a part or full-time WFH model without all your teams getting on board.

There's one thing you have to do before drafting your remote working charter: ask each of your staff members for their opinion with a survey designed by your HR teams and staff representatives. .
10 questions to ask your employees to build your WFH policy
☐How productive do you think you are working from home?

☐How motivated are you working from home?
☐How do you see your work-life balance?
☐ Do you have any concerns or worries about the WFH policy?
☐ What are the biggest advantages of working from home for you?
☐ Do you want to carry on WFH part-time? (if so, how many days a week?)
☐ Do you want to carry on WFH full-time?
☐ What do you expect from the company to improve your WFH experience?
☐ In terms of working from home full-time, would you like access to coworking spaces?


☐ In terms of working from home full-time, how often would you like to meet colleagues (seminars, conferences, team building)?
Surveying your staff ensures they get on board your company's policy and it improves their sense of belonging at the company: your teams agree with your remote working policy's values and rules which improves their quality of life at work (from home). It's the best way to make this new way of working work!
Draft your WFH charter
After surveying your employees, gather everyone (HR team, managers, staff representatives, IT management etc.) to review any issues and open negotiations to achieve something everyone can agree on.

Your charter should clarify the terms of your employees working from home. It's a kind of user guide detailing the objectives of remote working, the rights and duties of remote workers and terms and conditions. It basically outlines your policy's rules:

☞ WFH pattern: full remote or hybrid?

In terms of a hybrid format:

☞ In terms of a hybrid format: minimum and maximum days remote working (on a weekly or monthly basis), preparation for WFH requests to the manager and WFH eligibility criteria.
☞ Remote working sites available (coworking spaces)
☞ Allocated equipment budget for WFH employees
☞ Equipment (furniture, computers, software) provided to all staff to ensure they have good WFH conditions
☞ Procedure in case an employee moves
☞ Procedure in case of work accidents
☞ Employee rights: clearly state that WFH employees have the same rights as all the company's employees
☞ Privacy: clearly state that WFH involves keeping any information related to work private




Once the charter has been drafted and approved by all parties, there's just one vital thing left to do: communicate.

3. Transparent communication for full support
This is a golden opportunity to come together: firstly, share the survey results then present the WFH charter and spend time answering all the staff's questions. Some of them won't want or need to share their thoughts immediately: let them send questions (anonymously or through staff representatives) about the WFH policy so you can answer them at a future meeting.
Use feedback to adapt or approve your WFH charter. The final touch: send it to all your employees and make it readily available. The charter should also be provided to every new recruit during induction.
4. Review it regularly to update it
Your charter is ready, you've shared it with all your staff and you're ready to go.
What's next? Your WFH policy's foundations are well established and will undoubtedly guide all the staff through the change towards a new way of working.
But your charter is not unshakeable. Make sure you review it every year. Survey your staff again: are they flourishing? What areas could their quality of life at work improve in? Does your policy require changes? If necessary, adapt your charter and share any changes with your colleagues.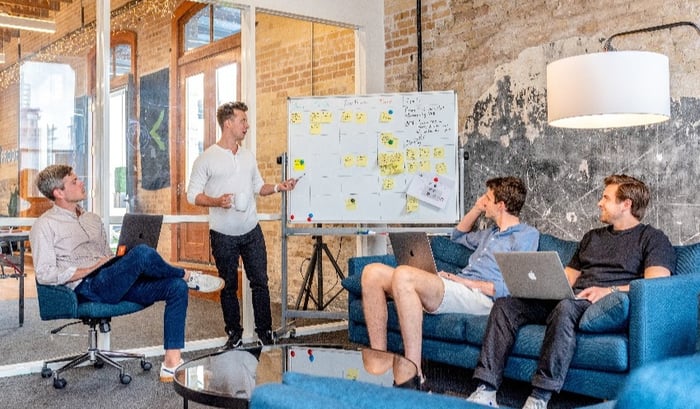 A key element of your organization and corporate culture, the remote work policy ensures your employees' health as well as those of your company
Bonus: disconnection charter
Digital is everywhere and the company must guarantee everyone the right to disconnect.
What is the right to disconnect?
Companies must enable their staff to strike the right work-life balance and combat the risks of burn-out. How? By enabling employees to disconnect from digital tools and only contacting them during working hours (never during paid holidays, TOIL days, evenings, weekends).
To highlight the company's commitments to this area, it could implement a disconnection charter. It should be drafted with the works council and stipulate the objectives of the right to disconnect, how the employer contributes to the right and any training/awareness measures or activities to put in place. The charter is then annexed to internal procedure.
You see, the 3 keywords to make remote working durable for your company are: collaboration, transparency and adaptation! Have fun 😉