"And what do you do for a living?" This is a question that is becoming increasingly difficult to avoid whenever you meet anyone. And for good reason: while for centuries "work" meant only "subsistence", times have changed and it is now essential to be fulfilled AT work in order to be fulfilled BY your work.
It's got to be said that we spend most of our time there. It is therefore better to feel good about it if we don't want to get caught up in an infernal mechanism from which it is very complicated to extract oneself.
This is why we talk about Quality of Life at Work. QLW for those in the know, and people in a hurry. Quality of Life at Work should give rise to well-being at work, that is the very reason for its existence. But again, the notion seems vague: is it a quantifiable reality, which can be compared between individuals because everyone feels the same way about it?
Fortunately, the World Health Organization (WHO if you want to expand your dictionary of acronyms) proposes a definition that it understands as being universal. It is "a state of mind characterised by a satisfactory harmony between the skills, needs and aspirations of the worker and the other constraints and opportunities of the workplace".
OK? Is that not clear? Don't panic, let's take a look at the indicators that measure how well employees' chakras are aligned within the workplace.
The 10 QLW Commandments according to the ANACT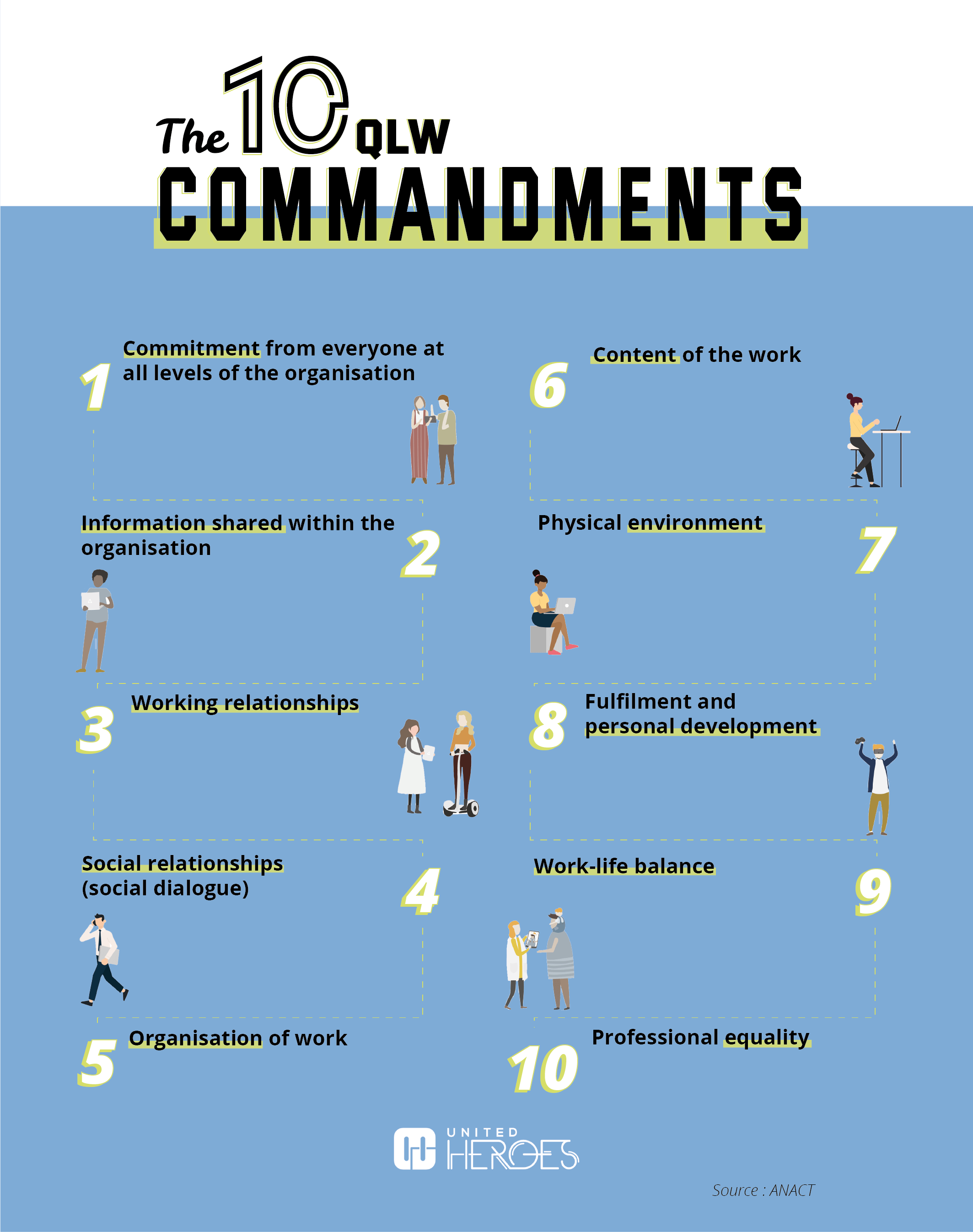 Commitment from everyone at all levels of the organisation
Information shared within the organisation
Working relationships
Social relationships (social dialogue)
Organisation of work
Content of the work
The physical environment
Fulfilment and personal development
Work-life balance
Professional equality
Implementation
Of course, it would be utopian, if not counter-productive, to deal with each of these ten dimensions head-on. The best approach is to identify the biggest gaps in your company, focusing on these themes, in order to work on the most urgent.
Having organised several meetings with the right people through this type of exercise, you have identified four areas where measures need to be taken in order to improve employees' feelings. Well done, you have just done a large part of the self-psychoanalysis work that the process requires.
Now we need to define practical indicators, which make it possible to take a snapshot of all employees at a given moment. It is this basis that will help you guide work in the right direction, identify changes and make a pretty PowerPoint presentation about the work you have done and the results you have achieved.
How can QLW week help you?
Now that you are aware of the themes of well-being at work, how they interact with a multitude of factors specific to your company, and have begun work on certain stumbling blocks, a helping hand is always welcome.
First of all, to answer your many questions: what criteria can a company use, other than simply financial indicators, to evaluate its performance? What types of social dialogue make it possible to combine improving working conditions and organisational effectiveness? What is the role of management in fostering individual and collective commitment?
You probably have other questions, but this is already a good start. By answering these questions, you will learn, in particular, that it is totally unproductive to disconnect corporate performance from well-being at work, because this infantilizes and disempowers employees. The absolute opposite of what you are trying to do. This is also an opportunity to convince the most doubtful about the company's economic interest in its employees being the happiest in the world at their jobs!
How to participate in QLW week?
The ANACT is principally a network of partners in the regions, led by the ARACTs. I'll give you one guess ... the Regional Agency for the Improvement of Working Conditions. Bingo!
One per region and a multitude of events, workshops and conferences on various topics with the same focus: how to find the perfect mix between corporate performance and employee development, together. The complete programme can be found here. (Content only available in French)
So, what are we waiting for to be happy?