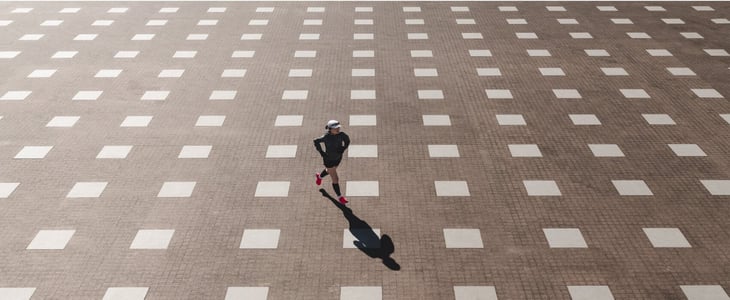 Connected sport challenges are designed (and customized!) to suit any type of company and challenge.
Whether it is a company, where working from home is the norm, that wants to celebrate their business culture. Or a multi-site business that wants to form a bond between their offices, agencies or factories. Or an international group that wants to create opportunities to get together based on their history, values, to celebrate a business anniversary or get staff involved in a community cause. There are hundreds of reasons to host a connected sport challenge.
A connected challenge is a great way to bring staff together. So how do you pull it off? This article tells you how to (successfully) launch your connected challenge in 5 steps. 🚀
5 questions to ask yourself before launching your connected challenge
1. Why launch a company challenge?
An anniversary to celebrate, a campaign to make exercise part of staff's everyday routine, a way for teams to showcase the company's values or just an idea to bring staff together: there are hundreds of reasons to launch a company challenge! But if you want to pull it off, you first need to plan your project and pin-point what your top requirement is.
Think about the story you want to tell, the communication tools you plan to create and the goals you have to set based on your main focal point. You won't communicate the same way if your aim is to promote your CSR policy or combat a sedentary lifestyle. So being clear about it is key to designing your connected challenge.
👉 The United Superheroes example

Let's take an example we've made up: the United Superheroes company (ring a bell)? This French company's CSR and HR departments have joined forces to launch a connected challenge and rally up their 3000 staff members in France, Britain, Australia and Spain. The idea is to promote their sustainable transport plan i.e. the additional mileage fee to encourage cycling to work.
2. What story do you want to tell through your challenge?
To pull off your challenge, you need to give your staff a story that encourages them to get involved!
Drop-outs may dampen the excitement around your connected challenge. Keep up the energy with an inspiring story based on your event. Your aim is to make your staff want to take part so you're sure to get them on board.
You can tailor your storytelling to suit your company: it could convey your business culture, history and values. It could be based on an event such as Breast Cancer Awareness Month, Movember, Environment Day, QWL Week etc.
👉 The United Superheroes example

Once the HR and CSR departments have decided to launch a connected challenge to promote their transport plan and encourage staff to cycle to work, they design a story based on protecting the environment. They kill two birds with one stone, not literally, with the "Let's walk and cycle for the planet together": they promote green transport (walking and cycling) and teach staff about the benefits of exercise.
💡A tip from United Heroes: We've designed a full catalogue of turnkey challenges to host events all year round. Challenges include "Back to Work", "World Tour" and "Exercise for Earth". A well-structured story will get all your staff on board! If you want to take things up a notch then our community event consultants can create bespoke connected challenges.
3. Which type of connected challenge should you choose?
Now that you've identified your main objective and fleshed out your story, it's time to pick which type of connected challenge you want to host.
There are all kinds of company challenges depending on your motivations:
Community challenges (supporting a social cause or charity)
Environmental challenges (so staff can do their bit for the environment)
Team building challenges (to encourage staff to exercise as much as possible)
Virtual races (to promote individual performance)
👉 The United Superheroes example

The environmental challenge is the natural choice for this company. The CSR and HR departments have decided to step up their game by supporting the Reforest'Action charity involved in reforestation and protection. Another reason for staff to walk and cycle as their efforts are converted into planting trees!
💡A tip from United Heroes: We've built strong partnerships with federations and associations (Sport dans la ville, AFM Téléthon, Mécénat Chirurgie Cardiaque, RoseUp, Fédération Française Handisport etc.) to help businesses motivate their staff.
4. What is the goal for your challenge?
Every challenge needs a goal! It has to suit your staff and their ability as well as the story you want to tell.
10 marathons in 10 weeks is a great idea. But it's impossible (isn't it?). Set the bar too high and you'll only put your staff off. On the other hand, a relatively simple goal may demand too little effort and time to make the challenge enjoyable right to the end. It's all about balance!
Your goal will decide how long the challenge lasts: and that's the last question you need to consider.
👉 The United Superheroes example

A goal in kilometres is the most appropriate for United Superheroes to encourage people to walk and cycle to work. So that means estimating how many daily km to set for each staff member based on average commute times, adding them up and making it a goal for everyone.
💡A tip from United Heroes: Our event consultants are here to advise our clients and set the most appropriate goal based on points to achieve together or distance to cover.
5. When and how long should your connected challenge last?
Timing is crucial. Getting your staff to run in the middle of February in freezing temperatures isn't the best idea. You want to encourage as many people as possible to be part of the event, not put them off. You run the risk of the challenge falling at the first hurdle because nobody wants to do it. If you want to promote outdoor sports then go for spring, summer and early autumn. If you're looking for indoor exercise: you can do it all year round!
When it comes to how long the event lasts, it's all about balance. If it's too short then you won't have time for your challenge to get off the ground. If it's too long then motivation may flag week after week. So, what do you do? It mainly depends on your internal resources.
If you have the resources for long-term event hosting and communication then you can run a challenge lasting weeks. But if you don't have much time to spare then go for one or two weeks. If you want something even shorter than you could plan a one weekend virtual race.
👉 The United Superheroes example

United Superheroes have decided that to reach its km goal, its "Let's walk and cycle for the planet together" would last 3 weeks (21 days), covering European Mobility Week that's held every September. It's long enough for staff to make their new habits part of their routine (it takes 21 days to make something a habit). It's short enough to keep staff motivated throughout the connected challenge.
💡A tip from United Heroes: We think a month is ideal for a challenge! It gives you time to get your staff involved, inspire a sense of competition to achieve the goal and have a long-term impact. If you have internal resources devoted to hosting events then you could create a challenge lasting months!
How do you get your staff excited about your event?
You've designed your challenge, it's connected, it's up and running... Now what? Many companies fail to get their staff on board. So how do you pull it off?
Create teams
The advantage of a connected challenge is that it brings people together beyond borders, no matter the distance. It's ideal for empowering team spirit!
If that's what you're looking for, create teams to take each other on throughout your challenge. A healthy sense of competition will motivate participants to get involved on a daily basis.
Appointing ambassadors and team leaders could help you oversee the connected challenge. They're there to make sure your event runs smoothly and keep everyone motivated.
💡A tip from United Heroes: Depending on your needs, create your teams based on existing departments, trades, agencies or offices. Or throw out the rulebook and put employees together who don't know each other to encourage diversity and new relationships.
Promote the challenge
One thing's for sure: your ambassadors won't do all the work for you. You've got to go for it if you want everyone to be talking about your new connected challenge on their coffee break!
How? Use your internal communication resources! Hangers, flyers, posters, email banners, QR codes, intranet messages etc. There are all kinds of ways to highlight your event in-house.
Don't forget about external communication: promote your company and share what you're doing and your connected challenge on your social media (create a hashtag) and website.
If you're feeling creative then use videos and podcasts to broadcast your messages and give staff the floor.
💡A tip from United Heroes: Launch a connected challenge with United Heroes and you get a ready-to-use communication kit that's entirely customized to suit your company. Isn't that handy?
Extra content
Provide extra content related to your challenge to entice all your staff no matter their profile or how sporty they are. Articles, diet or wellness classes, introduction to sport, webinars with experts etc. Spice up your resources, bring in professionals and associations to make your event a success among all your staff.
If you create content that isn't just geared towards the sporty employees in your company, you make your challenge an inclusive event that everyone can be part of.
💡A tip from United Heroes: There's a magazine section on the United Heroes app that our clients can make their own. They can publish articles about their challenges, staff interviews and more. We also provide webinars to teach staff about wellness in all its forms.
Do you have a connected challenge you'd like help setting up? Contact us to learn more about our solutions.

Content manager @Sport Heroes