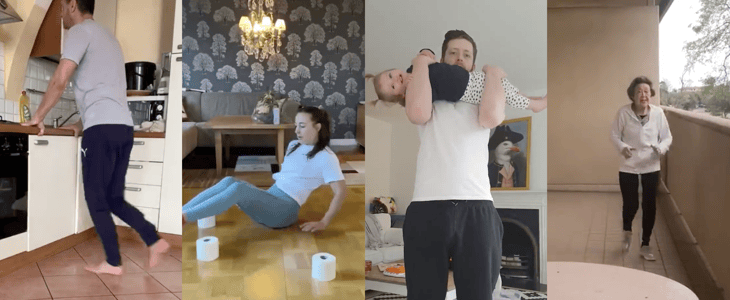 We're experiencing an unprecedented health crisis which is requiring more and more countries to order the lockdown of populations.
Some people have surpassed themselves when it comes to being inventive and creative to keep working up a sweat during these long weeks of remote working or being temporarily laid-off!
We've put together the 10 most unexpected and unlikely sports (but which are efficient!) that we found on social networks over the last few days.
1. The ingenious treadmill
No longer able to go to the gym? Some people have found THE solution by making their very own treadmill. Although it's creative, maybe you shouldn't try it at home... 😊
Auch die Fitnessstudios in Deutschland müssen jetzt ihren Betrieb einstellen. Doch auf das tägliche Workout muss niemand verzichten, auch zu Hause nicht. #coronavirus #COVID2019 #COVID19 #ShutDownGermany pic.twitter.com/1kq4KKEgnh

— Deutschlandfunk Sport (@DLF_Sport) March 17, 2020
2. Get to know your neighbours
Fancy a game of padel? It's a great idea: get some fresh air and socialise with your neighbours, while remaining at a safe distance (1m apart).
#coronavirus #covid19 #italy #sport #tennis #2020 #corona pic.twitter.com/8g1JTzG1qN

— athiqbe (@athiqbe) March 17, 2020
3. Do a few laps
On your balcony. In your apartment. The sky's the limit! See you in 10k!
how does grandma get exercise during #quarantine? just like this! #GrandPrincess #CoronaVirusUpdate #COVID19 pic.twitter.com/QwIjJ1RCc1

— Michelle Heckert (@WhatTheHeckert) March 11, 2020
4. Do sport with your roommates!
Quarantine strengthens bonds.
Day 1 of self-quarantine no gym... no problem @EduPerez10 @frankky63 pic.twitter.com/oDOSRrHjKz

— Yony Rodriguez (@Jonylovesfutbol) March 17, 2020
5. Or with your dog...
He really is man's best friend.
My gym is posting workouts you can do from home and this one required a weight. #ResterChezVous #COVID19 #homegym #homeoffice #frenchbulldog pic.twitter.com/nGYMXZkwnO

— Mich Keomany (@MichelleKeomany) March 16, 2020
6. ...or even with your child
Since children are also staying off school, why not make the most of it and do sport as a family?
No gym due to coronavirus, so we're making do with some things from around the house pic.twitter.com/iWkzwxx3og

— Bryan "SOCIAL DISTANCING" Paris 📈 (@bparispoker) March 3, 2020
7. Have you stocked up on toilet paper?
Might as well use it to exercise with too!
🗣️ "Quarantine workout with 🧻"

If you're currently self-isolating, why not make use of all that stockpiled toilet paper with this home workout? 💪

Thanks to fanny_josefine on IG for sharing 🤣🙌#MondayMotivation | #FitnessMotivation | #CoronavirusOutbreak | #QuarantineLife pic.twitter.com/9OG4j76Eqt

— Garden of Life UK (@gardenoflife_uk) March 16, 2020
8. Whatever it takes to build up your muscles
If you haven't got any equipment at home, make do with what you have! (Bottles of water can also work)
Quarantine Gym.

Bench & Curls.

Get big, throw gas, hit bombs. pic.twitter.com/ZsPUq2lBJ2

— Eric Sim (@esim69) March 17, 2020
9. Prefer ice sports?
There's something for everyone.
What you do when there are no sports and you are in self quarantine! #AYS #Covid_19 pic.twitter.com/5vDkorQIHC

— Are You Serious (#AYS) (@AYSSPORTS) March 14, 2020
10. For cycling enthusiasts
It's not so as exotic as long rides, but at least it's something!
Quien no hace deporte en cuarentena es por que no Quiere. pic.twitter.com/7OzIX6vGG4

— La Ruleta Española (@EspanolaRuleta) March 15, 2020
At United Heroes, we have solutions to use sport and physical activity as a lever for social links, communication, cohesion and engagement. Additionally, we allow companies affected by the crisis and whose many employees are working remotely to adopt our digital programme as part of a positive approach focusing on health, fun and team-building.

Content manager @Sport Heroes