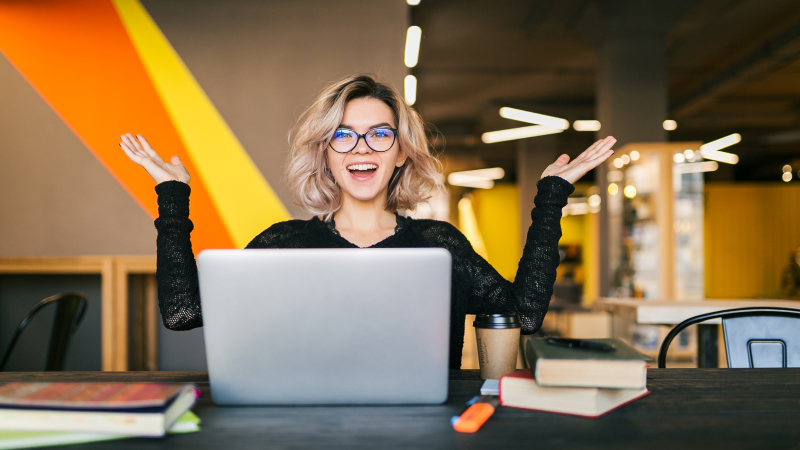 Being happy at work. For some, this statement is more of a dream than a reality. Between increasing workloads, delicate management of hierarchical relations, an increased desire to do well, and pressure also being present... it can sometimes be complicated to find a sense of satisfaction daily at the office! However, the development of "happiness" (or "feel good") management has provided a breath of fresh air to conventional corporate management in recent years. So, what is workplace wellness and what are the action triggers your business can leverage? Benefits, how it works, who is involved: discover our complete guide to workplace wellness!
How to define workplace wellness?
Improving employees' well-being consists of finding levers to promote a better quality of life at work to increase their satisfaction. Happy employees are 10 times less likely to call in sick, twice as productive, and stay twice as long in a company compared to others. A management objective that clearly explains why wellbeing is often integrated into corporate strategy and why "workplace wellness" weeks are gaining momentum over the years!
A state of mind characterized by a satisfactory harmony between, on the one hand, the aptitudes, needs, and aspirations of the worker and, on the other hand, the constraints and possibilities of the work environment.
World Health Organization
Who is in charge of workplace wellness?
The CEO
The CEO obviously plays a central role in the context of workplace wellness. Indeed, it is their responsibility to ensure consistency between the company's strategy, the shareholders' interests, and those of employees. Yet, workplace wellness necessarily implies a long-term vision for the company and a focus on risk prevention as well as measures that promote the development of human capital. It is therefore up to the CEO to set a course, implement concrete objectives and give their teams the means to succeed.
The CHRO (or Human Resources Director)
The CHRO is the conductor of all actions in favor of employees' wellness. He or she provides strategic guidance for implementing programs that facilitate working conditions. Thanks to their global vision, the CHRO can identify and measure the sensitive points or points of improvement in terms of workplace wellness, using quantitative data (work stoppages, turnover, etc.) and qualitative data (individual interviews). Relying on listening and teamwork, the CHRO can surround itself with the:
Director of Diversity and Inclusion, to encourage the adaptation of employees regardless of their profile;
Director of Labor Relations, to maintain an effective agreement with the unions;
QWL Manager (or Chief Happiness Officer), to deploy

workplace wellness programs

adapted to the business.
The Talent Acquisition Manager (or Recruitment Officer)
The recruitment manager's mission is not only to identify high potential talent and select future employees but also to evaluate the recruitment and integration process. The challenge is to identify potential gaps in the job candidate experience and develop solutions that can increase workplace wellness and attract the right talent.
The Talent / Engagement Director
The objective of the Talent Director is to support employees in their career development by identifying internal mobility opportunities. Employees can thus feel fulfilled in their roles, knowing that their career management is assured over the long term, thanks in particular to constant adapted training. All this obviously contributes to improving workplace wellness.
61% worldwide employees consider that their hierarchy is concerned about their skills and training! (2016 Edenred-Ipsos barometer)
The Internal Communication Manager
In order to promote the company's image and relay its initiatives to employees, the internal communication manager coordinates and structures communication activities. As a true interface between senior management and employees, he or she ensures that the company's values are present in every action taken. This strategy contributes to increasing employee commitment and wellness.
The CSR Manager (Corporate Social Responsibility)
In close collaboration with Human Resources, the CSR manager mobilizes employees around a social or environmental project aimed at improving its impact on its direct environment. A company that commits to an ambitious CSR approach fosters a sense of belonging and workplace wellness among employees, who are proud to give purpose to their tasks.
The Director of Innovation
The Director of Innovation is in charge of instilling the spirit of innovation within the company. This is a strategic role when you consider that 91% of workers would like their business to be innovative! The innovation manager sets up partnerships to provide new technological solutions that can have a significant impact on the quality of life at work (QWL). He or she may also be required to organize creativity challenges or participatory innovation events.
91% of workers would like their business to be innovative! (Accenture)
The Health and Safety Manager
The health and safety manager ensures that the primary needs of employees are met (this is crucial, especially in the industrial sector) because workplace wellness starts with safe working conditions. They also ensure that the primary needs of employees are met. In conjunction with the HSWCC (Health, Safety, and Working Conditions Committee) or staff representatives, the Health and Safety Manager ensures that the primary needs of employees are met. In conjunction with the HSWCC or staff representatives, they participate in risk analysis, in the implementation and monitoring of preventive actions, and compliance with HSQE standards (Health, Safety, Quality, Environment), or in the prevention of psycho-social risks and WMSDs.
They are also responsible for the Zero Accident Policy since they ensure that safety instructions are understood and respected by all employees. Finally, they oversee the ergonomics of workstations, notably for the prevention of risks and WMSDs (musculoskeletal disorders).
The Workplace Manager / Office Manager
The role of the Workplace Manager is to provide a pleasant work environment, promoting workplace wellness. This may involve the choice of furniture, the management of workspaces, or even the decoration of the premises. They recommend practical or logistical solutions to improve QWL, such as providing a gym or showers within the company.
The works council
The works council has an important role to play in workplace wellness, as it allows to collect and report the demands and needs of employees. It ensures employees' right of expression is respected and understood by management.
Employees
Of course, the employee has a central role to play in their own workplace wellness. The company accompanies the employee in a QWL approach, it is then up to them to adopt the new practices suggested so that they become a success! It is also up to the employee to alert the company if any shortcomings are detrimental to their quality of life.
Focus on the Chief Happiness Officer job 🔍
One job seems to be at the heart of this corporate strategy: the Chief Happiness Officer (CHO). This job was created to meet the new expectations of employees. The missions of the Happiness Manager are to identify, understand and respond to the needs of employees to help make the office into a genuine living space. With finesse and creativity, they must adapt management to the needs of each employee since expectations differ from one employee to another, as does the vision of workplace wellness and happiness.
To be effective, the CHO must activate different action levers:
Commit to treating all employees equally

: even if it seems obvious, poor treatment is one of the main causes of "turnover" in the workplace. A

workplace wellness study

showed that only 44% of employees say they are valued by their employer. Yet, respect is an essential component of

workplace well-being

.

Satisfy security and belonging needs

: according to Maslow's pyramid, if an employee's primary needs are not met, there is no point in trying to satisfy his or her esteem needs, which is a key driver of perceived happiness.
Carrying the voice of employees: all people who work for a company need to be heard. To do this, their ideas and needs must be taken into consideration. It doesn't matter if it's a phone call, an email, or feedback on their work, they need to know that someone is listening and acknowledging them.
Why is wellness important at work?
Bringing teams together
According to a study conducted by Randstad in 2019, 54% of Millenials (25-34 years old) are looking for a good atmosphere at work as a top priority, right after an attractive salary. And for Generation Z (18-24-year-olds), this criterion even comes in first place for 55% of voters! There is no shortage of reasons to promote employee workplace wellness. The first is to strengthen the teams in place by finding common values between employees and the company, to enable them to grow together. This can be done by organizing events (such as themed lunches, parties to celebrate company milestones, etc.) or through other team-building tools to motivate and improve team spirit.
55% of Gen-Zers are looking for a good atmosphere at work as a top priority, right after an attractive salary. (Randstad, 2019)
Reducing turnover
Workplace wellness also helps to reduce turnover. In concrete terms, if the company shines on the job market and benefits from a positive image, it will be easier to attract the best talent and retain current employees. 46% of employees want to work in a business that guarantees workplace wellness along with mental and physical health. Workplace wellness is more important than ever in today's environment, as it drives productivity and employee retention. Fortunately, many companies have not waited for the Covid-19 crisis to take care of their employees with initiatives around this issue!
How to promote workplace wellness?
Focus on companies that implement solutions for workplace wellness
1. Renault's Calm Space
The French are not getting enough sleep. To enable their employees to enjoy the benefits of a good night's sleep, Renault has set up a nap room. The "Calm Space" has been tested by 2,400 employees on a site as a prevention tool to avoid accidents and take care of the health of the teams. workplace wellness increases thanks to these spaces dedicated to relaxation. Moreover, meetings can be a source of stress: as a general rule, creating a cocoon for less formal meetings helps to relax employees.
2. Harmonie Mutuelle and its athletic challenges
Harmonie Mutuelle has positioned itself as a committed player in the field of sport in favor of workplace wellness: they are sponsors of over 200 running and walking events. And the company challenges its own employees to do more exercise through connected challenges. Increasing your heart rate during the week can improve motivation and increase creativity. Studies show that the simple act of walking regularly fosters new connections between brain cells.
3. WeWork and its office greenery project
WeWork champions the benefits of indoor plants in the office. Those benefits are proven: they improve the comfort of life and consequently workplace wellness. Vegetation, therefore, plays an essential role in all WeWork coworking spaces.
4. Financial aid for those who commute by bike, like at Sport Heroes
Another idea for corporate wellness: assist your employees' daily commute. For example, you can set up a fleet of electric bikes if your budget allows it. Otherwise, there are other solutions such as shared bikes, purchase subsidies, sustainable mobility packages, or even financial aid for those who come to the office by bike, just like at Sport Heroes (we call it a work bike service).
5. Seasonal fruit at Cellnex
The Cellnex company, a telecommunication operator, provides seasonal fruit for all its employees. The objective is to fight against malnutrition, the cause of which is mainly lunch breaks that are too short. To provide all the vitamins employees need and boost workplace wellness, nothing could be simpler than making a fruit basket available to all!
6. Extra vacation weeks at Paypal and Nike
Paypal, the online payment service, has 80 employees in France. The company decided to grant 4 extra weeks of vacation (on top of the usual vacations) to develop a personal project, travel, or simply disconnect. They also organize yoga and Pilates classes to work on the well-being of both body and mind at work. At Nike, they offer a week off to their employees to take care of their mental health.
7. Physical and mental wellness at Biscuits Leclerc and Starbucks
The Biscuits Leclerc factory has created a sports center for employees and their families. This center boasts a squash court, but also a physical therapist and a weight room. Employees can exercise before or after a day's work: this initiative contributes to a better work-life balance. Starbucks also offers employees and their family members 20 therapy sessions per year.
8. Complete wellness services with SII
Sports coaches in the office, online tutoring, company nurseries, a 24-hour mental health support service, bicycle repair workshops, skills sponsorship, and even work days dedicated to volunteering: SII, a digital services company, do not skimp on the wellness of its employees in the workplace.
4 tips to cultivate happiness at work
Give meaning: Many employees have lost their

sense of purpose

and direction. When you are working on a task, on the meaning of the task, you encourage commitment because you give the individual the possibility to imagine themselves in the collective success, to recognize themselves in it.
Give voice: By allowing everyone to express themselves and contribute, provided that they take into account being given a voice, the company puts itself in a listening posture that is essential in the relationship of trust it establishes with its employees.
Cultivate optimism: A trademark of leaders, optimism is above all a way of thinking differently, and of communicating this ability to those around you to make it a tool for

motivation

and performance. In short, it's a superpower to be developed and maintained.
Celebrate successes: Every small victory is an invitation to go even higher and commit even further: when I am congratulated for the small step I just took, I feel stronger to take a big one!
The workplace wellness toolbox
Sport in the workplace is a lever for workplace wellness
For an improved quality of life
In recent years, there has been a growing interest in the practice of sports among employees within the same company. It can be a matter of going for a run during the lunch break, setting up a team sport and registering in a departmental championship, or even participating in sports competitions such as marathons, proudly displaying the logo and the name of their employer. Those who engage in sports as part of their professional life do for many reasons:
20%
of employees practice sports to relax
9%
to get to know their colleagues better
For an improved employer brand
It is in the best interest of companies to encourage their employees to play sports, as proven by studies. While the benefits of sport for employees are not surprising, the figures on the impact of physical activity on the operation of a business are very interesting. It has been observed that net profitability increases by up to 14% and productivity per employee by 6 to 9%!
It is also a plus for the company's image since employees give an average score of 7.7/10 for the quality of life at work in their company when it offers sports, whereas the national average is around 6/10. Employees consider that a company that offers them sports is dynamic, modern, innovative, and attractive.
Employees give an average score of 7.7/10 for the quality of life at work in their company when it offers sports, whereas the average is around 6/10.
For greater professional wellness
Beyond the physical benefits or those related to team spirit, athletic activity is also recommended to feel better every day and feel good about one's work. Indeed, it is acknowledged that employees who practice sports have a physical and mental balance that gives them a very positive attitude in their work and are generally less stressed than their colleagues who do not practice sports.
If you still had doubts about the benefits of sport and its usefulness for the company, the Goodwill-Management study highlights some figures that will finally convince you: 3 years of additional life expectancy, delaying the onset of dependency by 6 years, and between 5 and 7% savings on annual health expenses.
Optimizing working conditions to improve employee wellness
Accessible and inclusive spaces
Accessibility has become a priority for contemporary workspaces. It is a very broad notion that ranges from the inclusion of all modes of employee transportation to the accessibility of computer terminals, as well as the ease of access to different spaces (meeting rooms, break rooms, common kitchens, etc.). Workplace wellness involves the environment itself and takes into account the diversity of the company's audience (gender, age, digital literacy, etc.).
Favoring health and workplace wellness can also involve pathways that encourage walking rather than long periods of sitting: many offices are equipped with a nap room or walking mats. Providing outdoor access or access to a resourcing space that is clearly separated from workspaces is also essential for good quality breaks.
Including a locker room and showers to support the practice of sports in the company also makes athletic activity accessible to employees.
Flexible and adaptable spaces
Many companies are experimenting with the free placement of employees on workstations. Halfway between the open space, often criticized for its noisy atmosphere, and assigning a fixed and closed office that makes social interactions difficult, this innovative concept is becoming more and more attractive. It allows employees to choose their desk according to their activity of the day or the moment and to easily change it according to their schedule.
Some workplaces also have different purposes depending on the time of day and the day of the week, such as certain coworking spaces that sometimes host a training session, sometimes a conference, and sometimes several small workgroups. Modular partitions and furniture that can be easily moved (and rearranged as needed) meet this constant need for adaptation. By encouraging spontaneity and social interaction, these solutions energize teams, boosting productivity and workplace wellness.
Environments that promote wellness
The interior design of workspaces is all about atmosphere. By playing with materials, colors, and shapes, we encourage both the rapid identification of the company and the creation of moods conducive to workplace wellness: comfort, brightness, a pleasant atmosphere that makes you want to stay, etc. The atmosphere reinforces or determines the function of the place: group exchange, collaboration, relaxation, or concentration.
Through a play of colors, light, the choice of materials, and the furniture available, appeal to employees' sensory faculties: smell, hearing; and touch in addition to the visual aspect that we spontaneously think of.
The design of the workplace is consequently an essential element of a successful workplace wellness policy. The influence of a well-designed workplace on a company's attractiveness and its ability to retain talent is now widely recognized.
Convincing employees to participate in your wellness program
Have you set up a wellness program at work? Congratulations, you've taken the first step in the right direction! Now the next step is to convince your employees to participate. How do you ensure the success of your program? We give you 5 solutions.
1. Explain why it's essential
When it comes to feeling better at work, don't let your employees figure out on their own how the program works and why it's important. You often have to start by educating them on the concept of wellness: what it is, the different forms of fulfillment, the solutions that exist, etc. By educating employees about their needs and options, they will be much more receptive to your corporate wellness program.
Above all, explain that there is no need to be ashamed of feeling the need to take care of oneself. Empathy is crucial for convincing employees to participate. Sometimes it is necessary to give employees "permission" to share their concerns about mental health and workplace wellness.
Hold sessions in which you detail the principles of the program, its goals, and the resources being used. The more you communicate, the more you stimulate their curiosity and motivation.
2. Involve employees in the program from the start
No matter how interesting your workplace wellness program is, you need to involve employees to motivate them in the long run. For example, you can offer them to choose the program's name and logo, or to become ambassadors or team leaders to motivate colleagues. It's also a great way to develop leadership skills!
Recognize employees who have initiated personal projects related to your program. Maybe you have yoga enthusiasts in your company or meditation enthusiasts? Perhaps you have wellness enthusiasts who can lead workshops with colleagues? The possibilities are endless, and the best resources you have are probably already in-house!
3. Involve top management
Only 49% of employees say their manager understands their issues and needs, so it's important to educate top management on topics such as employee workplace wellness. To create a culture of wellness, managers must set the right tone. They need to embody your program through speaking engagements, videos, etc.
For example, a short video of a senior leader speaking candidly about their experience with mental health and how they used the organization's resources to cope is a great idea. Your employees will then finally take time for themselves and become active participants in their own personal development. Creating a culture of wellness is a powerful lever for a business: it should be a priority objective for all organizations.
49% of employees say their manager understands their issues and needs.
4. Offer the most inclusive and accessible program possible
Of all the employees who indicated they could have participated in a workplace wellness program in 2020 but did not, 38% said it was because they were too busy. Your program should appeal to everybody, regardless of level, age, or occupation. There should be something for everyone. For example, if you only offer a gym membership, people with health or physical problems will be excluded. Their motivation is then likely to drop.
Think bigger by planning various activities: lunches, treatments, meditation sessions, conferences on stress management, etc. Peer pressure on the issue of wellness at work can have a positive effect since everyone can influence each other in the right direction. It is often easier to achieve goals in a group than alone. Encourage employees to work on their health by connecting with colleagues who share a common interest.
5. Reward and value efforts
To convince your employees to participate in wellness activities, you need to identify what motivates them. Is it money or gift cards, or is it pride and public recognition? Both can serve as a springboard to success. Material rewards like praise keep employees motivated and encourage future efforts. Not all employees are interested or motivated by the same things. Generally, there are two types of motivation:
Intrinsic motivation: comes from within, such as pride in a job well done or the satisfaction of making a difference in the community or an organization.
Extrinsic motivation: arises from more traditional rewards, such as gifts or vouchers.