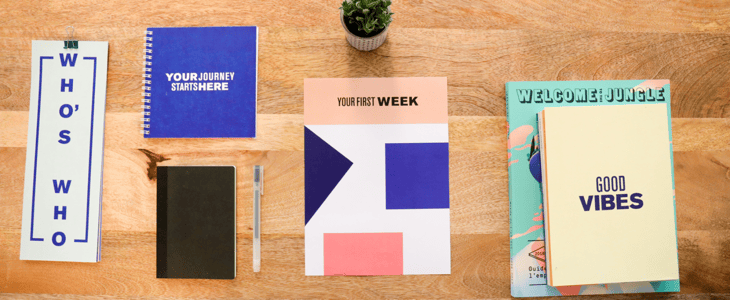 Whether it's in-house or remotely, the first day in a new company is often pretty nerve-racking. First impressions count, as the saying goes, so you may as well do everything you can to make a good impression on your new recruits when they arrive!
Well-planned onboarding with added extras is the answer to a successful induction and happy employee. Happy employees mean proud employees who aren't afraid to shout about it 📣
The simplest things are sometimes the best: share your values and business culture with a branded welcome pack for your new employees.
Are you wondering what the perfect welcome pack looks like? Actually, there are as many welcome packs as there are companies... It's up to you to design your own but we hunted down the best, most original, and innovative welcome packs on social media 🕵️ to give you a hand. Here are the top 17 welcomes packs our team found.
1. Back market: a spot of reading to soak up company values
A welcome pack is all well and good but it has to reflect the company. Back Market has nailed it! The new staff gets a pack bursting at the seams with everything from totes and t-shirts to a "Sabotage" sweater. There's even a reusable water bottle and little notebook for employees to keep handy during the day. But the main event is the Sabotage manual which details Back Market's core values, explains the business culture, and its missions, and helps new employees settle in even better!
Covid-19 bonus 😷: a must-have mask and hand sanitiser have joined the list of Back Market goodies.
2. Twitter: a personalized bottle of wine, a winning gift
The iconic # founder takes care of new employee integration. Twitter is all about keeping things simple with a 5-week induction course and a warm welcome with a pack including a bottle of wine bearing the brand logo, tote bag, t-shirt, laptop case, and notepad. It's simple but it works... It brings people together to engage employees from onboarding onwards.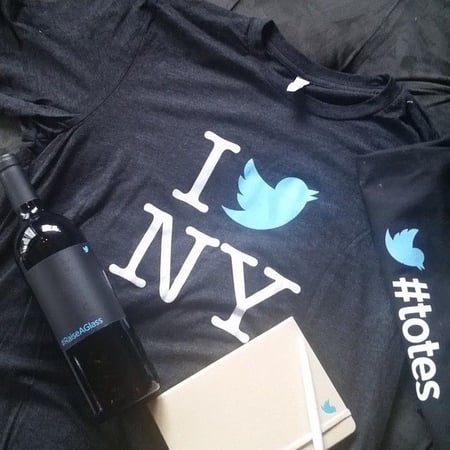 3. Mars: the chocolate touch to welcome employees
Mars, the biggest manufacturer of chocolate and confectionery in the world, was founded by the Mars family almost 100 years ago. The company is built on family traditions and shares its strong and unique company culture with its staff. Employee wellness is a core value which is why newcomers are spoilt as soon as they arrive. Mars' people policy has made it one of the top 3 great places to work in France.
The welcome pack includes everyday essentials (computer, smartphone, headset, notepad, etc.) and a sweet touch that employees love: the famous M&M's!
4. L'Oréal: it all begins with looking after yourself
Because newcomers at L'Oréal are worth it (get it? 😉), they get a bag of goodies when they start out at the company. A 100% L'Oréal pack to take care of themselves: cream, shampoo etc., and a flask to stay hydrated throughout the day.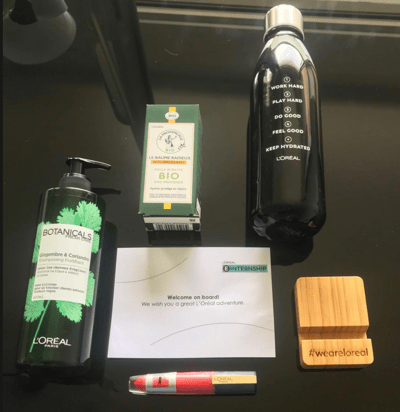 5. Apollo: an induction guarantee, even remotely
Apollo ensures its customers and ensures its staff settles in with onboarding. Employees receive a welcome pack at home with full sportswear to encourage employees to get active. There's no excuse not to exercise with your colleagues on your lunch break with such a welcome pack!
6. Atlassian: an experience that lasts
"From my insightful welcome pack (after signing on) to having my brand new MacBook Pro set up through remote management, right through to a customised Trello board detailing my 90-day plan for success. All my fears of starting a new role remotely have gone out the window" Lily-Rose Dona
Your company values are what help all your staff be in tune with each other, so they should know what they are, right?
Preboarding is essential at the software company Atlassian. New members get their welcome back before their first day so they feel at home before they've even set foot in the office.
I started a new role at Atlassian today as the Accessibility Customer Experience Lead 🥰. It's a new chapter for me as I've always worked in UX roles; but I'm excited to be able to focus all my time onto digital accessibility. #a11y pic.twitter.com/iOFS0TdEu1

— Rebecca Topps (@beckytopps) November 30, 2020
7. Salesforce: personalisation and adaptation are the key to successful onboarding
Salesforce is the SaaS giant and software genius that's striving to be an expert in staff induction too.
To help employees get on board and get to know the core values and company, each new arrival has a tailored onboarding as well as a great welcome pack with computers, tablets, headphones, stickers, and useful books that they're given on their first day.
Bonus: the welcome packs are updated on a regular basis and personalised to suit different teams.
8. KakaoPay: the slickest
This is one of the most stylish welcome packs we've seen and absolutely had to make the top 10! The Korean digital wallet company KakaoPay is on the cutting-edge of innovation when it comes to welcome packs.
In a nod to their financial roots, there are four notebooks inspired by global currencies, stickers, a toothbrush, a mug, and even a bag hook for the side of your desk. A great way to showcase the business culture!
9. Brooks: the winner for running fans
You certainly don't expect a cookery book as a welcome gift when you start working for sportswear specialists... Brooks gives its staff a full running kit to ensure they're prime brand ambassadors.
The welcome pack reflects Brooks' goal to get its staff moving and is a real shot in the arm for the company's employer brand and running community.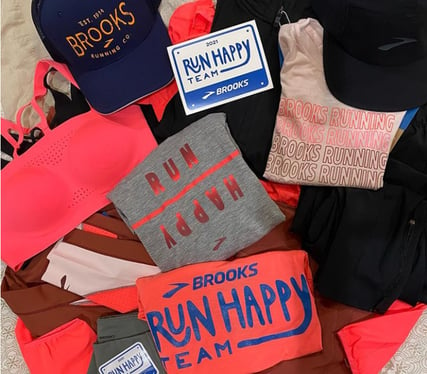 10. LiveChat: a one-of-a-kind welcome pack
Every company has its traditions for welcoming new staff whether it be drinks or a meeting with the whole company. But LiveChat does things a little differently and gets newcomers involved from the start. And what could be better than testing their culinary skills and getting them to make a cake for the LiveChat team in their first week?
So it's only natural that a cake forms the core of their welcome pack with lots of other goodies. The original and engaging initiative has been designed in-house! We're sold!
11. Pernod Ricard: a welcome pack full of bottles
Pernod Ricard knows how to welcome its new employees. Each one receives a selection of bottles from Pernod Ricard's brands, such as Le Petit Rosé or Jameson. Not only does the brand can spread its values and its universe but it is also an opportunity to celebrate the new position! One of the most original welcome packs on this list!
12. Just Eat: did you order a welcome pack?
The delivery service wishes to make a strong positive impression on its new employees as soon as they arrive. All the goodies are branded with the company's colors, and each one refers to its values. In addition, the products are made from recycled materials. An effective way to boost Just Eat's brand image and employer branding. Lastly, pens, notebooks, mugs, and bags have a QR code that brings you to a page dedicated to Just Eat's story.
Bonus: Not only does the company facilitates deliveries for its employees, but it also makes it easier for them to cut up the pizzas. 🍕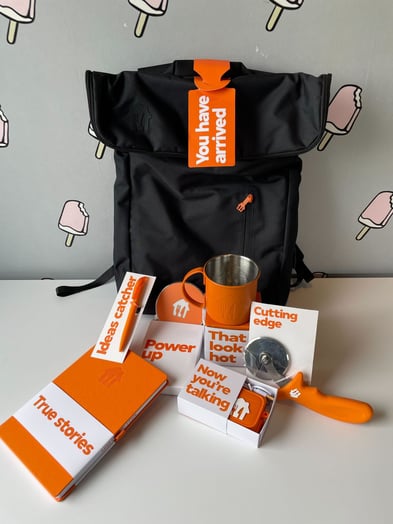 13. Accenture: a sustainable welcome pack
Accenture embraces the power of change to help its clients in their growth. The brand also applies this value with its environmentally-friendly welcome pack: a bottle made with wood or bamboo, a recycled pen, and a notebook. Without forgetting, a lovely plant to represent the brand's image and positioning.
14. NTT Data: a made-in-Japan welcome pack
NTT DATA Corporation does not forget its origins: Japan. The company decided to spread its corporate culture through its welcome kit. They have included an Ikigai book to help its new workers adopt a long and happy life. On the top, we have a kit to... prepare sushi!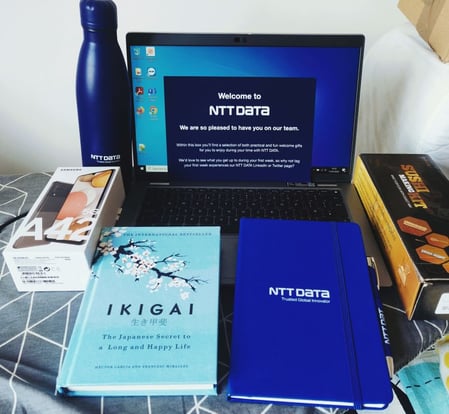 Bonus: NTT DATA encourages employees to share their welcome pack or experience on their social media accounts.
15. Deloitte: a wellness welcome pack
Deloitte is keen to take care of its employees with its welcome pack. It contains an anti-stress ball as well as an elastic band to relax during difficult moments. The band also included its magazine "10 moves to make moments matter" to optimize employees' experience as it's not just about "what" we do, but "how" we do it. A good opportunity to showcase its values through its welcome pack.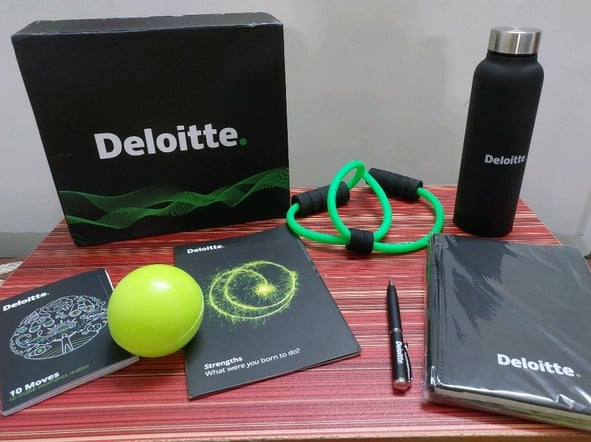 16. Bottomline technologies: a welcome pack full of surprises
Its welcome pack contains a lot of goodies and presents. You have the traditional ones such as a bag, a pen, a notebook, a computer (essential if the company wants its workforce to be productive), and a t-shirt. The second part of the welcome pack is full of food! The company included bars, candies, crisps, and chocolates! Did you ask for happy employees?
17. Unilever: a welcome pack representing brand's universe
Unilever is a consumer goods company. The company has decided to share its universe through its welcome pack containing its daily products: coffee, tea, and beauty products. An excellent way to retain its new employees in the long term.
That should give you food for thought when it comes to welcoming future talent. From the original to the all-around, a welcome pack is a great induction tool that gives newcomers a strong sense of belonging and an understanding of the company's values. A good welcome pack has every chance of making your colleagues proud and loyal and boosting your employer's brand.
A Gallup survey about employee induction found that just 12% of staff think their company does a great job at onboarding new employees. Remember that the welcome pack is only one part of a good induction. Make sure the entire onboarding process works for your staff as good onboarding boosts productivity as well as employee engagement and loyalty, and that's priceless!

Content manager @Sport Heroes