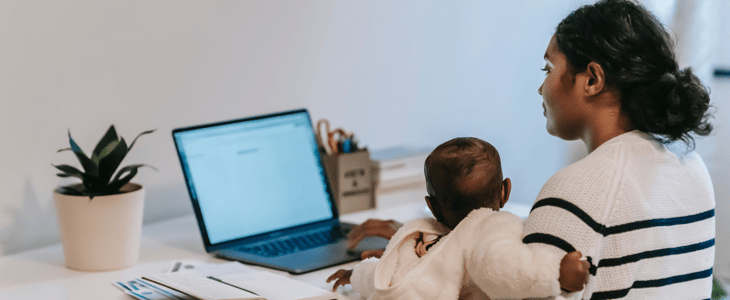 The health crisis brought to light the difficulties encountered by working parents: they had to manage full-time remote working with their children at home. When you know that the employment rate is 80 % for mothers and 90 % for fathers, supporting co-workers in parenthood is a real issue for human resources managers! In this article, you can discover 10 ideas for becoming a parent-friendly company.
Parenting: the company's role
Employees need companies to recognise the difficulty they sometimes have in striking the right balance between work and private life. This is a real issue for companies: taking into account the problems of parenting and providing solutions helps to reduce tiredness and stress while fostering creativity and cooperation.
Promoting a company policy in support of young parents also reinforces the employer's brand image and boosts a feeling of belonging among staff.
10 ideas to make working parents' lives easier
But how can parents be supported in the company? Here are 10 examples of solutions to encourage the commitment and well-being of young parents:
1) Time off
Support future parents and reduce inequality between men and women with paternity leave, second parent leave with no restriction on gender or days off when children are ill.
2) More flexibility
In France and elsewhere, a culture of "presenteeism" harms productivity and employee commitment. It is more efficient to measure performance by objectives rather than the amount of time spent at the office.
3) Remote working
Since the health crisis, many employees have adapted to the flexibility provided by working from home. Among other things, working from home leads to a better work-life balance for working parents.
4) No-meeting days
Especially on Wednesdays. This is a chance for employees to take a step back and to work in depth on a project.
5) Day-care solutions
Companies can offer childcare subsidies to reduce employees' parenting burdens. More expensive but super effective: in-office daycare can be offered to welcome children during and after school day, allowing parents to spend more time with their children.
6) Making adapted resources available
Unfortunately, parenting is too often seen as a taboo subject in companies. Don't hesitate to organise conferences and workshops or to invite experts to help working parents in their daily lives.
7) Educational support solutions
Financial help can be offered to staff to support their children in learning, help with homework and reduce the burden on employees.

8) Financial support from the start of the school year
A company's works council can distribute vouchers to parents at the start of term for all of their children aged under 26.

9) The right to disconnect
It is important to maintain reasonable working hours for all and not to expect staff to be working in the evening, at the weekend or on their days off.

10) Access to solutions promoting well-being
By supporting parents in their daily lives and encouraging them to disconnect during a physical activity (alone or with their families), employers can greatly improve staff's mental and physical well-being.
Supporting parenting in the company helps both to protect employee's mental health and to increase overall productivity. While not forgetting the employer's brand image: by providing innovative solutions for active parents, you boost your company's attractiveness.

Content manager @Sport Heroes