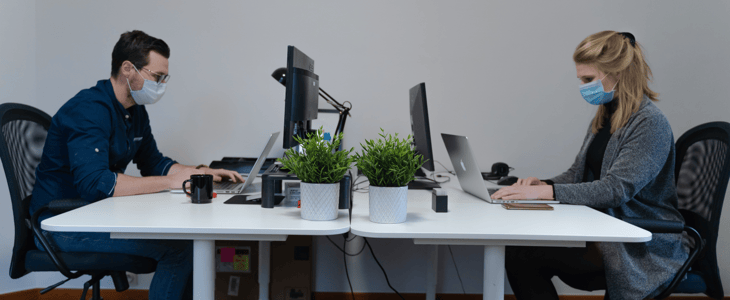 Encouraging dialogue among staff, keeping them safe and setting up remote working are just some of the major changes the Covid-19 pandemic has caused in the operational management of human resources.

The HR department has never been such an essential link in business to keep all staff members connected and give them the best conditions to work. Let's take a look at what's changed (or not) one year after the pandemic began.
Changing priorities for HR
HR has been the core of the business strategy from the start of the pandemic.

The complicated and unprecedented circumstances have made it rethink its basic tasks and adapt. Like before, HR is here to support staff, boost team spirit and develop skills in line with the company's values.

But it all changed when WFH became standard.

The challenge is to protect the company's human aspect and preserve a positive employee experience in a socially distanced situation.
That means countless updates to health and safety policies as well as exercise conditions since the start of the pandemic. March 2020 saw a series of emergency meetings to find ways to adapt to the extraordinary circumstances quickly and since then, the HR department has constantly adapted to government guidelines: lockdowns, furlough, mandatory masks, curfews etc.

Nowadays, HR's n°1 priority is still providing information about health and safety guidelines. Improving the social climate and supporting managers has also moved to the top of the long list of HR tasks whilst recruitment and training plan development has dropped down the list of priorities.

Digital transformation really ramped up too. Digitalising HR procedures is undoubtedly what has helped quickly manage a crisis with no comparison that has reshaped the world of business.
The WFH watershed
The explosion of remote working was a major turning point in the Covid-19 crisis. It wasn't that widespread in France before but it's now key to most French companies' internal set-up. It involves significantly changing working methods and mindsets and still requires the HR team's full focus.
What's the idea? Enable staff to work from home in conditions as suitable as at work. It's a technological and managerial challenge that has forced companies to reorganize themselves in record time and roll out sometimes new digital tools to enable remote working.
Handling the pandemic with new tools
"Out of sight, out of mind" is one saying that doesn't apply to companies that have managed to overcome the distance involved in WFH to stay connected with staff during the Covid-19 pandemic.
Companies have actually continued recruiting despite not always being able to physically meet applicants. Remote onboarding is still possible as long as the focus is on the stages that help create a sense of belonging i.e. organizing virtual coffee breaks or having access to a digital sport and wellness solution.

In terms of HR processes, the pandemic has meant using new tools, especially to automate the answers to frequently asked questions. Employees have rarely needed so many answers about their working conditions: health guidelines, remote working set-up, holiday allowance etc. Management software can deal with these sorts of questions by providing fast and constant communication with staff on a daily basis.
Staff wellness, the enduring goal
Keeping a sense of community in the business is a key focus for HR teams. The pandemic has seen it "relocate" this support to suit the limitations of WFH.
HR teams have spent a year helping staff put in place a new set-up at home, off the beaten track and requiring a work-life balance. According to a survey by Welcome to the Jungle, although remote working had a positive impact on staff's sense of independence (61%), it also created a sense of isolation (26%).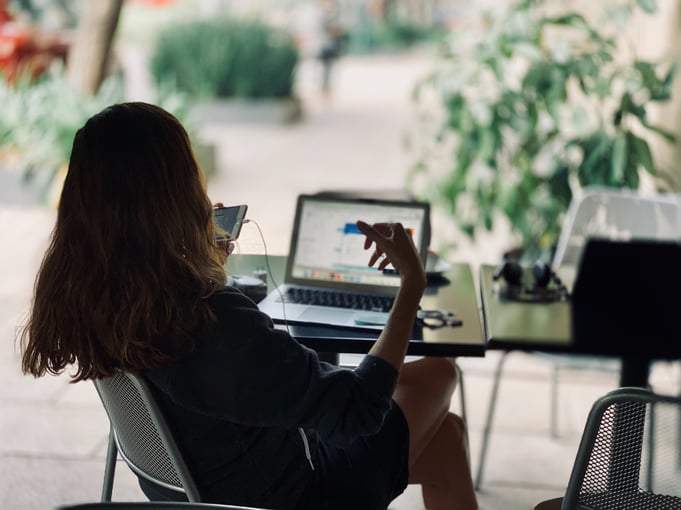 Currently, about 4 out of 10 remote workers feel isolated, hence the need to support them and create links between the teams
With the Covid-19 crisis, wellness at work has become a delicate balance that HR departments have tried to protect as much as possible by being adaptable, flexible and creative.
In practical terms, a huge amount of effort has been put into services available to staff. Is the company canteen closed? Provide your teams with a connected fridge service where they can use their badge to grab their meal. Is the office gym out of bounds? Give your colleagues a sports challenge! Has your company's biggest event had to be cancelled? Create an alternative with innovative new traditions.

The future aim for HR teams is to reinvent themselves as well as maintain the relationship built on trust among all staff. Planning for the future means innovating to find the right management model that will protect business culture and quality of life at work for teams in a professional environment that's good for everyone.

Content manager @Sport Heroes